My toddler is having to learn how to play on her own these days, while some of my time is spent taking care of the baby. Here, I share with you our five favorite toys that not only keep her busy for longer periods of time, but are educational as well!
(This post contains affiliate links, which means if you click on one of the product links, I may earn a small commission from your purchase. However, this in no way affected my recommendation of these products. These truly are the toys that are saving my life as a stay-at-home mom right now!) 
I'm really trying to be mindful of how much my daughter's world just changed when we brought her baby sister home. She went from having all of me, all the time, to sharing me with this new baby that needs a lot of my attention.
One of the things I'm trying to work with her on is playing more independently. Before our second daughter was born, I played with my toddler a lot. She got used to having me as her "play buddy." Now, of course, I just can't play with her as much as I used to and she's having a hard time understanding that.
What I'm learning in this process is that some toys are better than others. I hate to admit it, but my daughter is a bit spoiled. She is the first grand kid on both sides and has received a ridiculous number of toys from birthdays and other holidays.
While toys are great (especially since most of them take the kids away from the TV screen or tablet), I'm learning that some are better than others.
Here are my toddler's five favorite toys that genuinely keep her busy for at least twenty minutes at a time:
1.) PLAY-DOH
I know this might not be a favorite of most parents because it can be messy. However, to me it's worth the mess since my daughter can sit there for over thirty minutes at a time playing with it on her own. All I really have to do is sweep the floor when she's done. It's great for encouraging creativity and learning. Playing with Play-Doh also strengthens the muscles in their little fingers (the same muscles they'll use to learn how to write soon).
My daughter's favorite Play-Doh toy right now is the Play-Doh Kitchen Creations Magical Oven. It's pretty awesome and acts like a real oven. When you push the handle down, the Play-Doh you put inside "rises" and there's a light that slowly turns to red and dings when it's done.
2.) BLOCKS
Blocks are a new favorite for my toddler. She recently turned three and loves to stack and build things with blocks. She didn't have much interest in them before, but I think that's because she was too young to really understand how to use them. Now, she's having fun making towns and houses or just stacking them as high as she can. They really force her to use her imagination and can keep her occupied for a while. She really loves the Mega Bloks Big Building Bag set and the Melissa & Doug Wooden Block Set.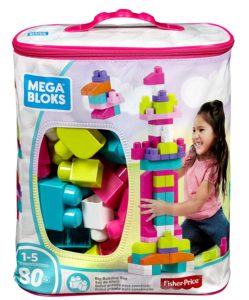 3.) PUZZLES
Puzzles are great for helping to develop their little brains and my daughter absolutely loves them right now. Puzzles help develop their attention, concentration and thinking skills. They also learn patience and are rewarded with a sense of accomplishment when they complete the puzzle.
I love watching my daughter put them together and love even more the little dance she does when she finishes one on her own. 🙂 She really likes these puzzles that come in a tin. They're good quality and the tin can be used for a variety of other things.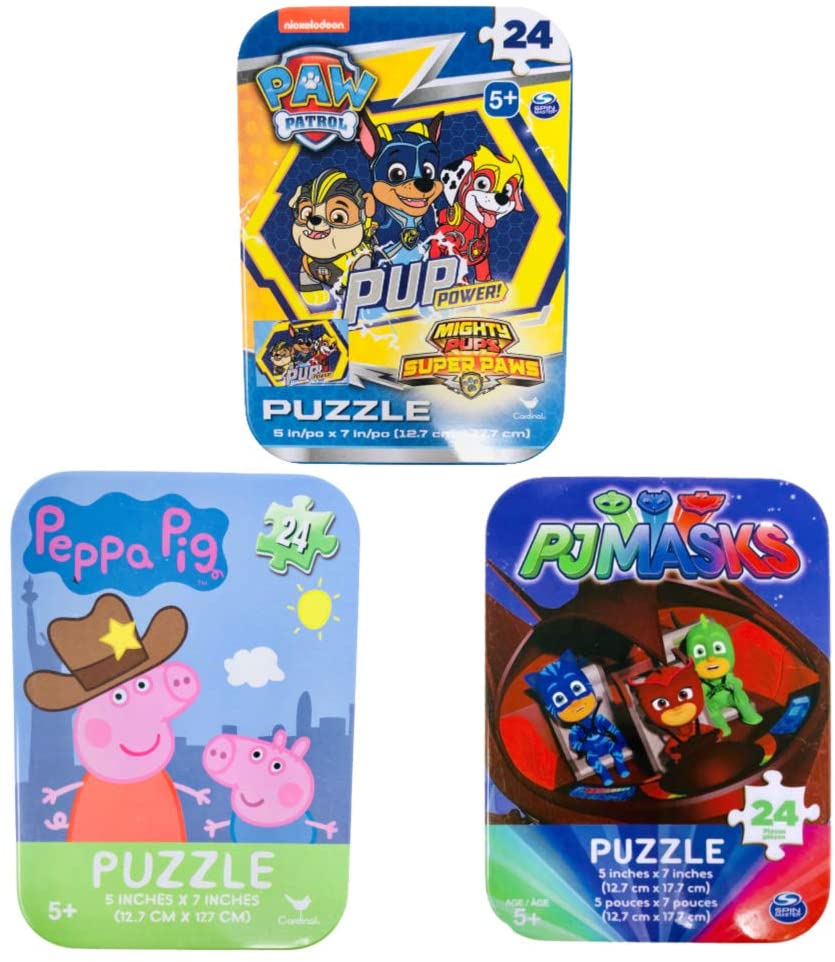 4.) COLORING BOOKS & CRAYONS
You really can't go wrong when you give your child a coloring book and some crayons. I am so glad my daughter is finally getting into coloring and drawing. I love seeing what her imagination can come up with. She's recently started drawing happy faces and loves to draw her different family members.
Coloring is great and has a lot of benefits such as helping children develop patience and focus, aids in hand-eye coordination and helps them to recognize colors. We love this eight-pack we got from Amazon that has a bunch of coloring pages, puzzles and different activities to keep them busy for a while! It also comes with some awesome stickers.
5.) HOPPER BALL
I know this one isn't necessarily educational, but I'm all for toys that encourage physical activity as well. A friend of mine who has three boys under the age of four swore by these balls, so I finally decided to get one for my daughter and she loves it! On her hopper ball, she can bounce around the house or outside as well. She's getting exercise and having fun at the same time.
I hope this gives you some good ideas of how to entertain your toddler! What toys can entertain your toddler for longer periods of time?