It has been a crazy busy week for me, which is why I'm so thankful for these three, at home toddler activities that keep my little one busy for more than thirty minutes at a time!
These activities have been on heavy rotation over here and I don't mind it one bit. I love activities that keep my little ones off the screen, help them develop their brains, encourage creativity AND require minimal supervision (so this mama can get some work done!).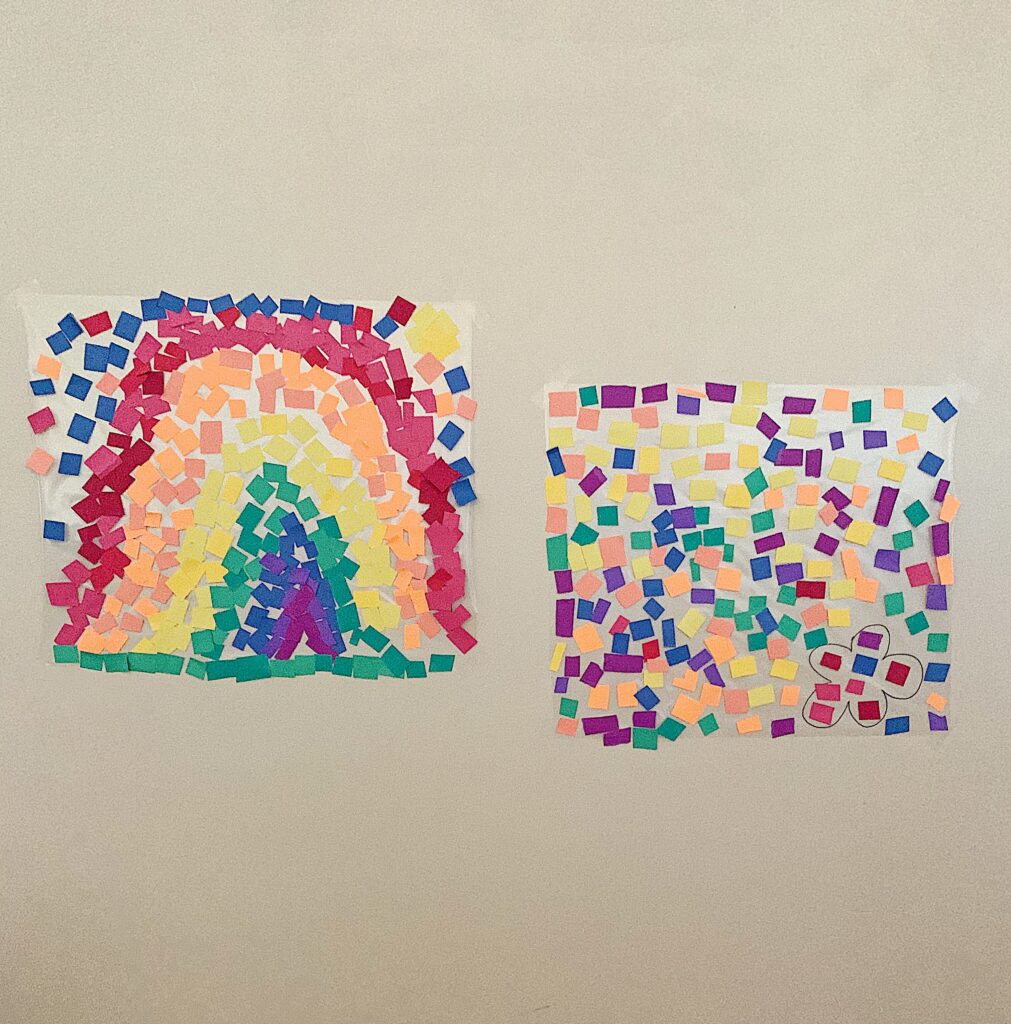 All of these toddler activities are little setup, little cleanup and keep my toddler entertained for long periods of time. There's nothing more frustrating then setting up a fun activity for them, only to have it keep their attention for less than five minutes, right? I can't be the only one that feels this way.
That's why these at home toddler activities are our current favorites:
1. Colored Water Bucket
What You Need
Bucket or bowl
Colored bath drops (or a couple drops of food coloring will work too)
Toys for the water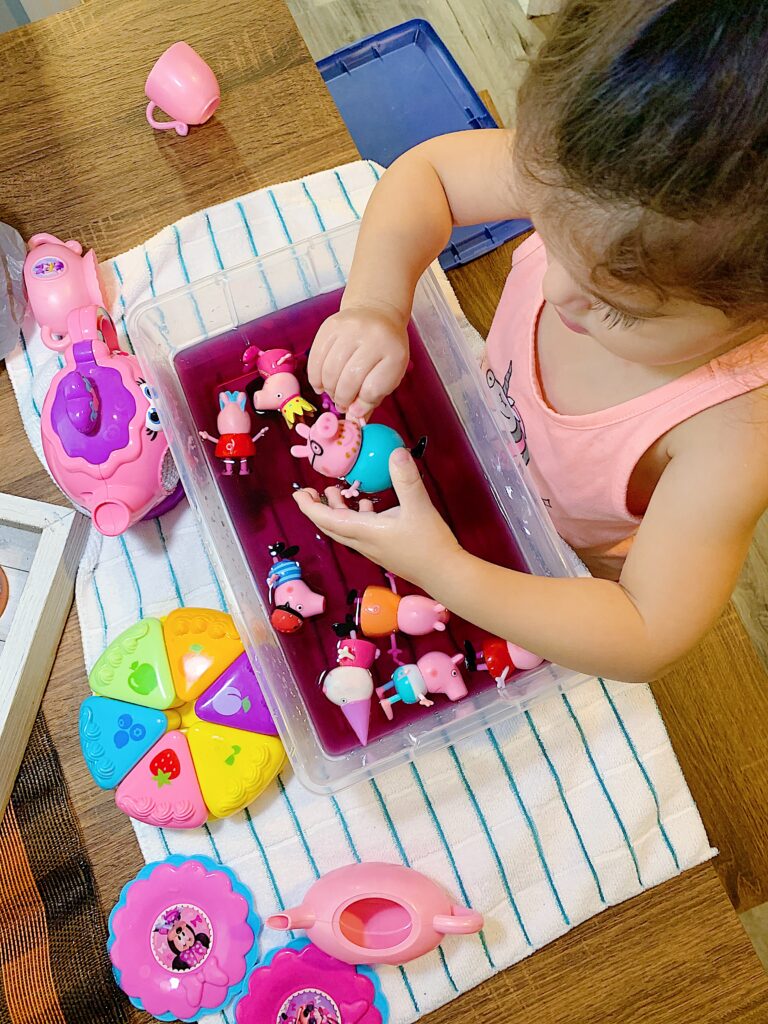 I have a rectangular organizing box that came with a lid, that I use for this activity. It works perfect because it's also where I store all the toys she uses for the water, so clean up is super easy.
Fill the bucket or bowl with a little water (whatever you're comfortable with). I fill ours about 1/3 of the way full. You don't want it too full or the water will splash out too easily when they play.
Drop in a colored bath drop! We use these bath drops but with as much as my toddler wants to do this activity, I started using food coloring every once in a while (way cheaper). The color isn't as bright as the drops but she was still happy with it.
2. Contact Paper Pictures
What you need:
Scrap paper in different colors
Scissors
Anything else you want to decorate with! (We stuck with paper but you could also add feathers, craft foam pieces, pipe cleaners, 3D stickers or whatever else you have at home that you're okay with being stuck to contact paper.)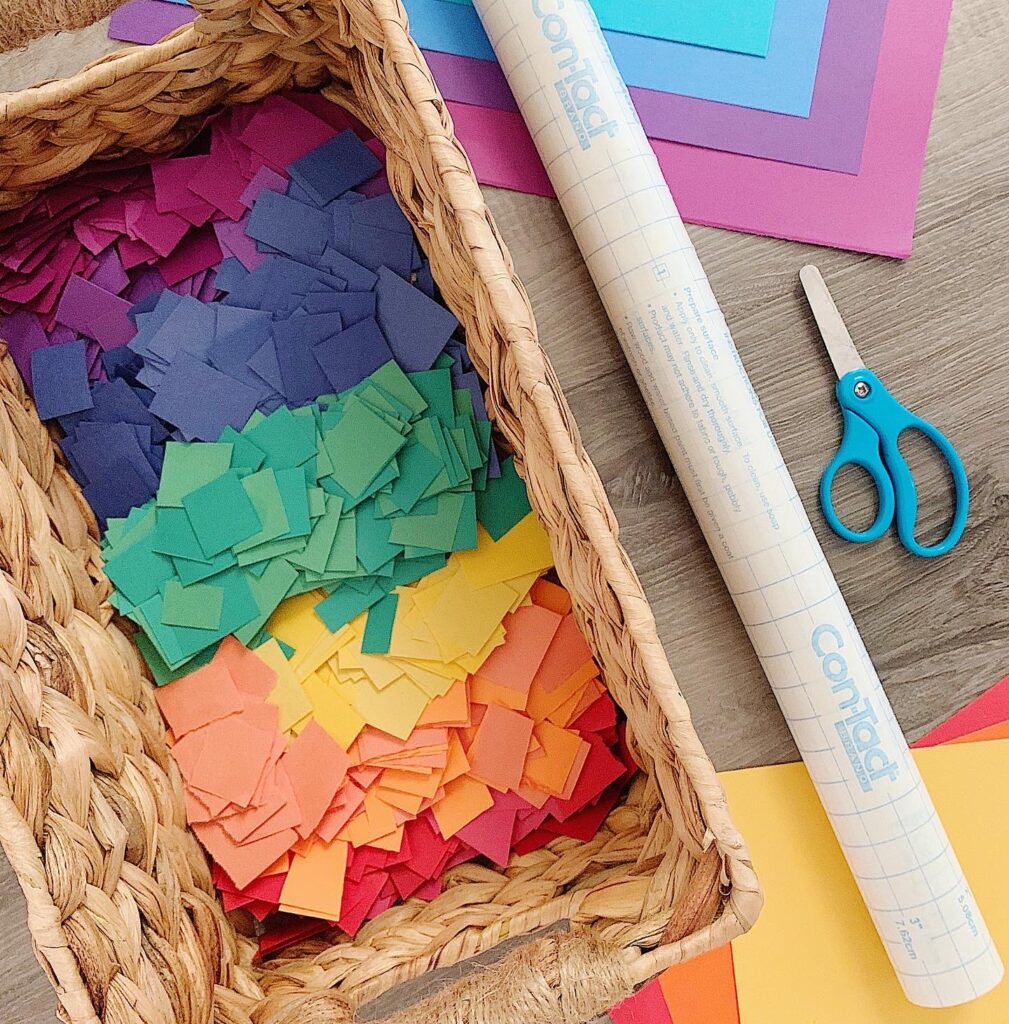 Cut your paper into small squares (or whatever shape you want really!). We used a bunch of leftover scrap paper from all of my oldest daughter's projects.
Take a large square of contact paper and tape it to the wall, sticky side facing you. Then, let them decorate!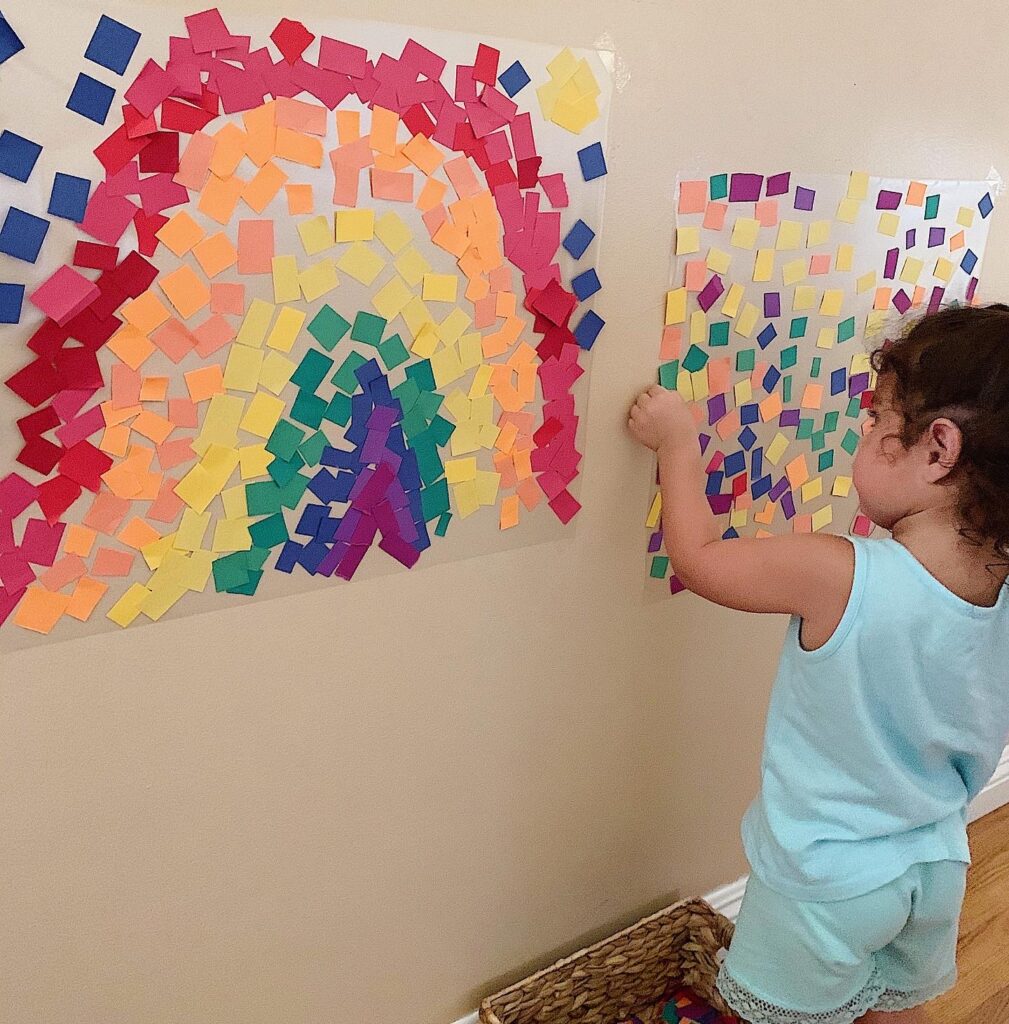 This kept Stella busy for at least thirty minutes. She even came back to it the next day to add more paper! My oldest also really enjoys this project. She did the rainbow, of course. 🙂
Recommended: Five Educational Toys That Keep My Toddler Busy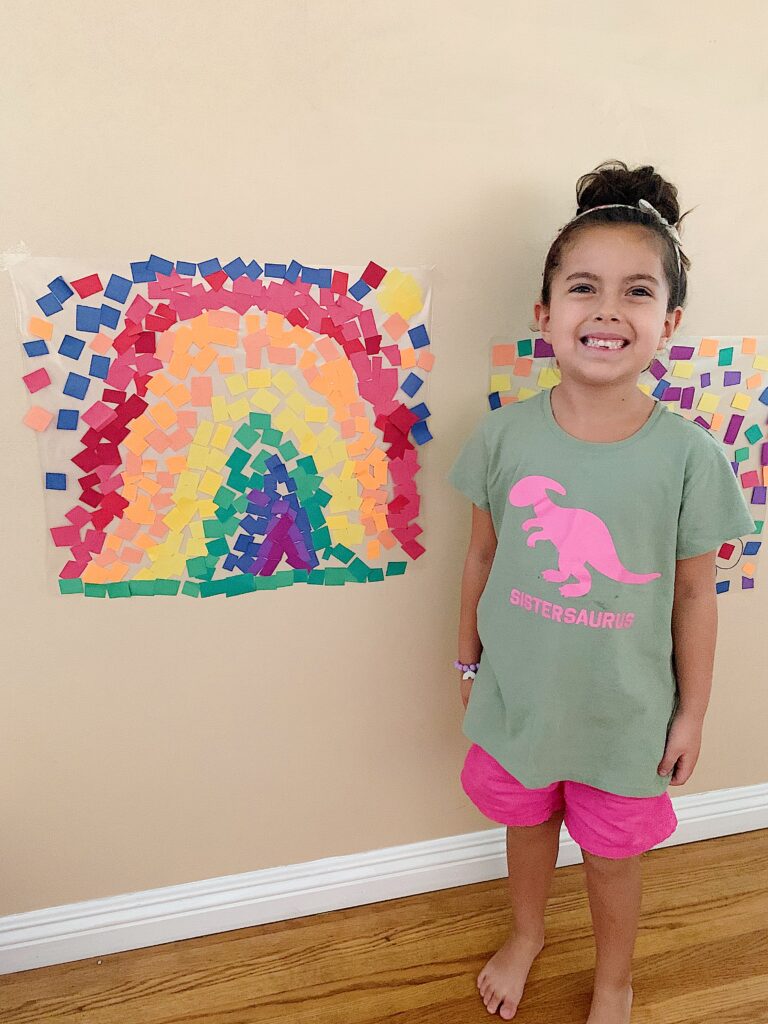 3. Decorating a Box
What You Need:
A large cardboard box (kids usually love ones big enough that they can fit into)
A whole bunch of stickers
This one really needs no explanation. I'm just amazed at how much time my toddler spent "decorating" a large cardboard box we had! We gave her a sheet of stickers and she was so happy, just chilling in the box with her doll, putting stickers everywhere.
She came back to the box at least three different times over a few days! I had just bought a big sticker book so she stayed busy. The only problem came when we ran out lol. Now, I need to go get some more stickers because this activity was such an unexpected surprise. I highly recommend this one if you want a solid thirty minutes (or more) to focus on your own thing.
Is there an activity your child loves that keeps them busy for more than five minutes? I'd love to hear in the comments! Or if you try any of these, be sure to tag me on Instagram so I can reshare!