This shop has been compensated by Inmar Intelligence and its advertiser. All opinions are mine alone. #mccainquickcookfries #friesfaster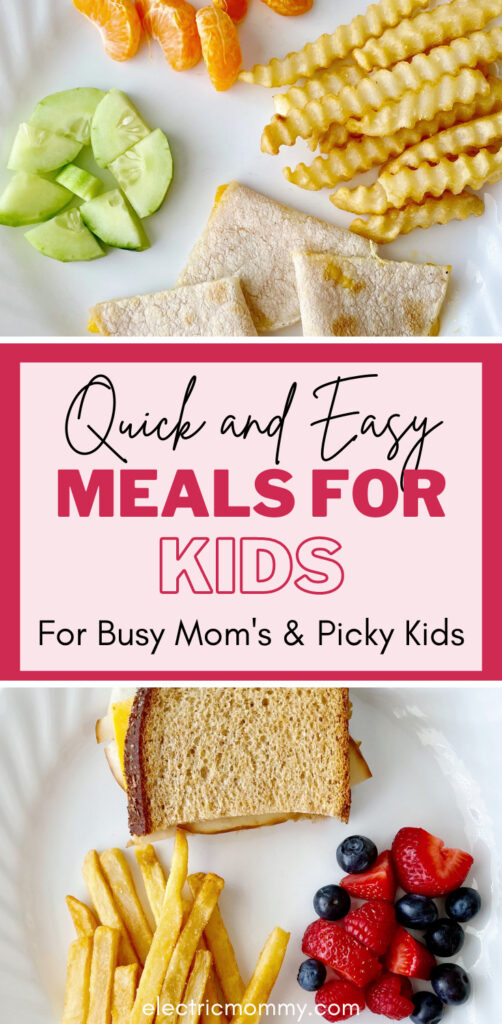 Anyone else have those days where it gets so busy that dinnertime creeps up faster than you know it? Or, do you have a kid that gets home from school right at lunch time, ready to eat and hangry for their food?
As a busy mom, I have those days ALL THE TIME.
To make those busy days even more challenging, my oldest daughter is extremely picky. There's only a handful of things she likes right now, which makes mealtime that much more difficult for me.
QUICK AND EASY OPTIONS
I've learned that it saves so much stress to have something quick and easy on hand for those busy days. That's why I love having a couple bags of McCain® Quick Cook Fries in the freezer. I like that there's no flipping required and they cook in half the time* compared to McCain's traditional fries.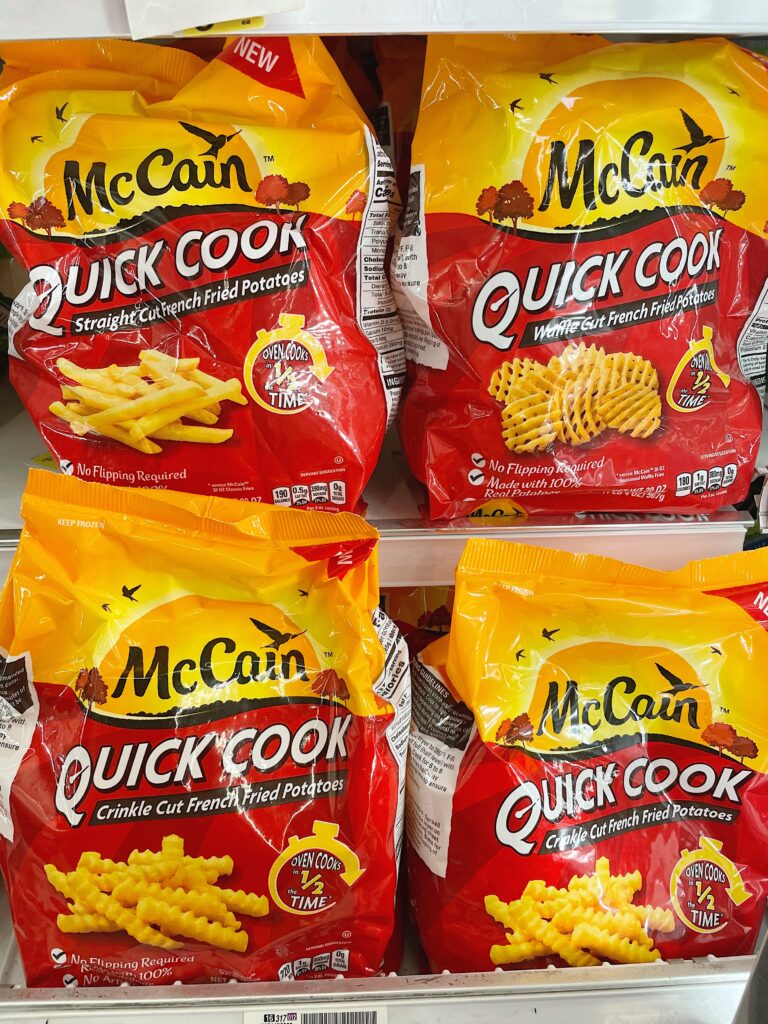 I grabbed a few bags from the freezer section at my local Albertson's. You can click HERE to add McCain Quick Cook Fries to your own grocery cart!
It takes just minutes to make these 100% real, 100% delicious French fries for a hot-from-the-oven side the whole family will eat just as fast! Faster to prepare. Easier to share.
Even my picky one loves these fries!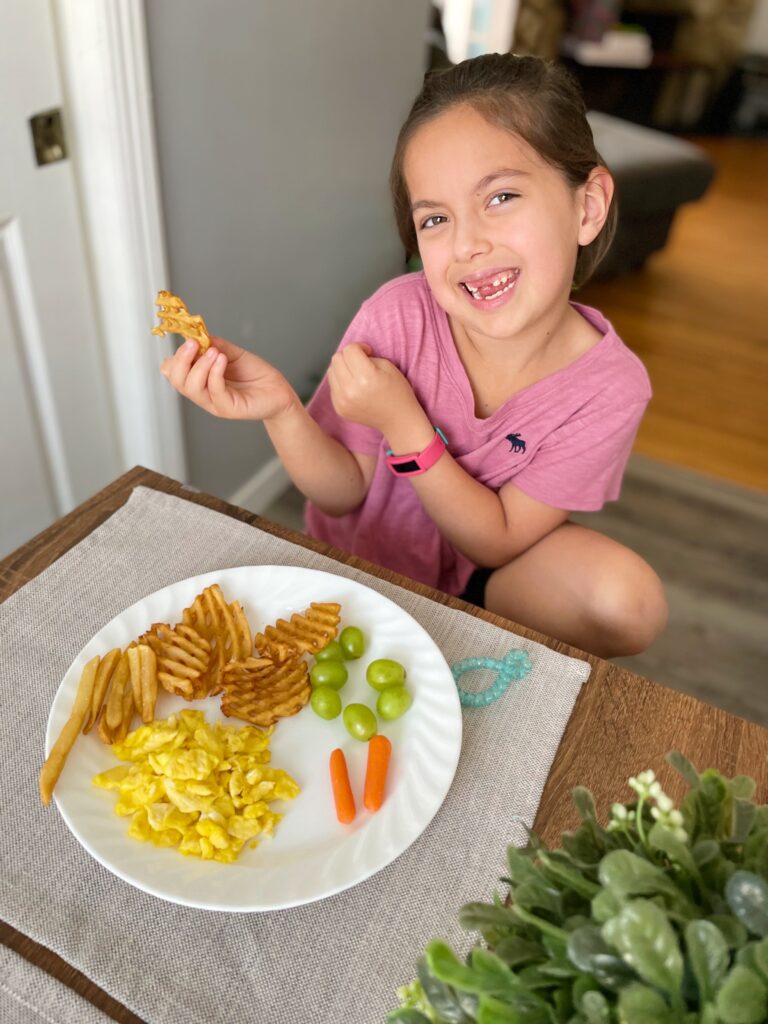 Figuring out what to make her for lunch and dinner can be tough. Having a picky eater can be a real struggle. Some days, it feels like such a battle over food, but not when I serve some delicious fries as a side. I love that it puts a smile on her face and it's even helped her try some new food, knowing there's something else she loves on the plate.
I know I'm not the only Mom that struggles with picky eaters or days where there's no time to cook. That's why I wanted to share a few easy meal options that both my girls genuinely love. I hope this gives you an idea for what to make on one of your busy days!
1. Turkey and Cheese Sandwich | McCain Quick Cook Straight Cut Fries | Fresh Berries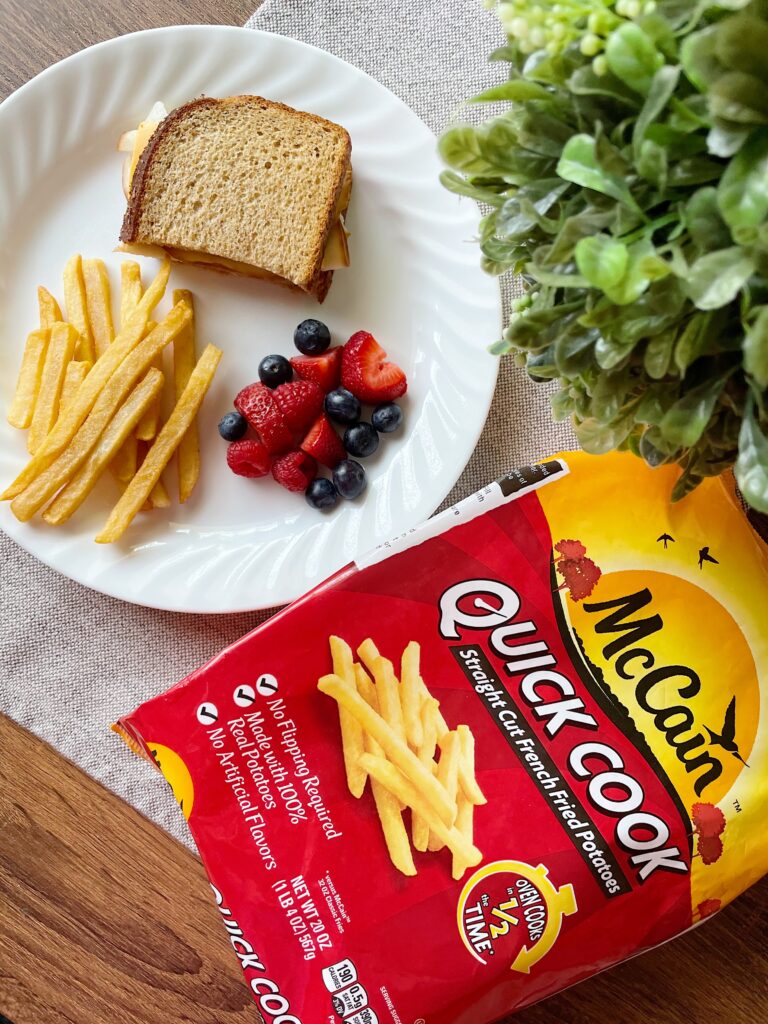 Turkey and sliced cheddar on 100% whole wheat bread, delicious McCain Quick Cook Straight Cut Fries and fresh blueberries, strawberries and raspberries.
2. Scrambled Eggs | McCain Quick Cook Waffle Cut Fries | Baby Carrots | Grapes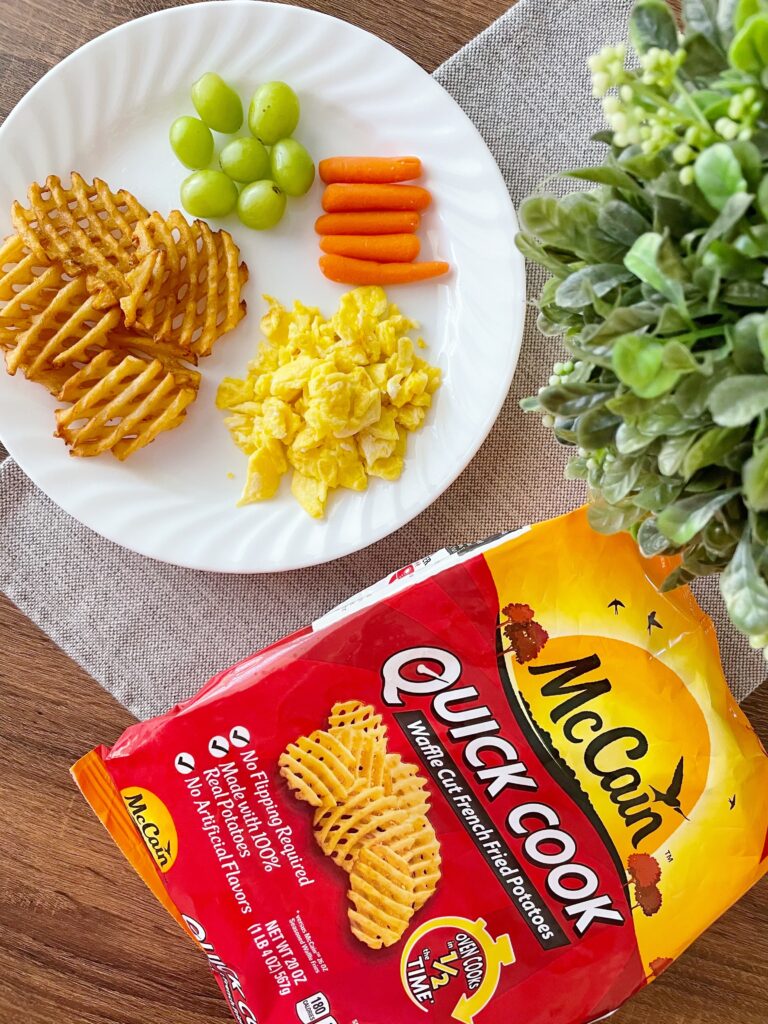 One to two scrambled eggs, fresh-from-the-oven McCain Quick Cook Waffle Cut Fries, baby carrot sticks and grapes.
3. Cheese Quesadilla | McCain Quick Cook Crinkle Cut Fries | Cucumbers | Orange Slices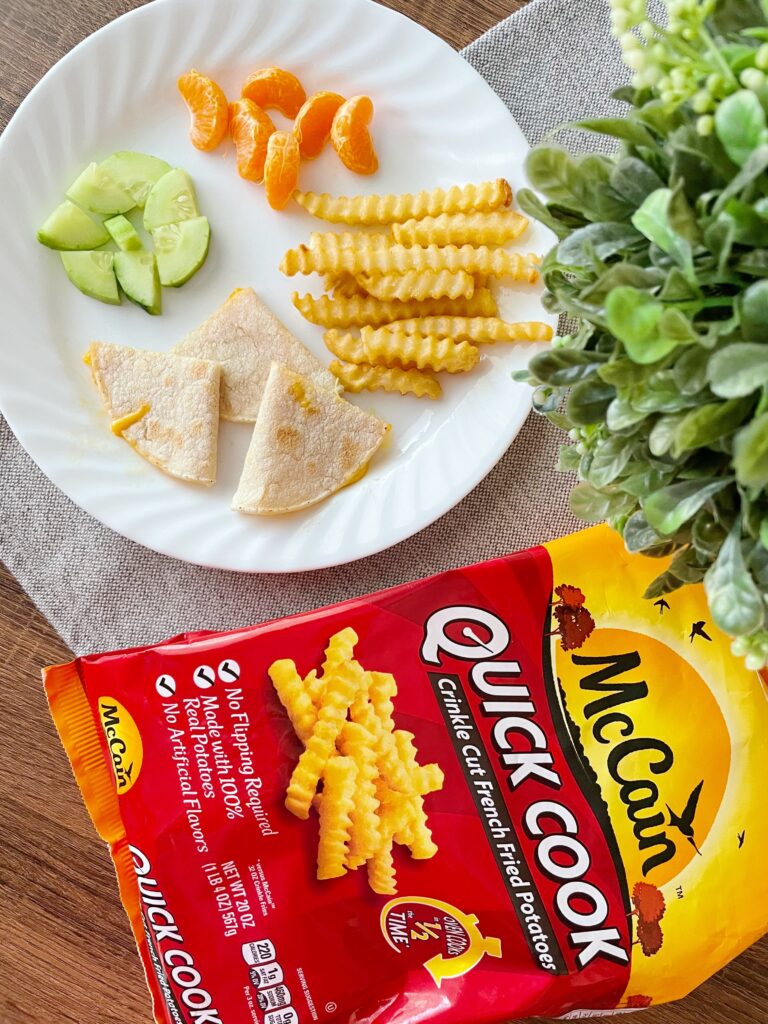 Cheese quesadilla on a corn tortilla, tasty McCain Quick Cook Crinkle Cut Fries, diced cucumbers with lime and baby orange slices.
All three of these meals are a hit with both my girls, which is saying a lot considering how picky the oldest one is. I love them because they're so easy to make, but they also put a huge smile on my daughter's faces. 🙂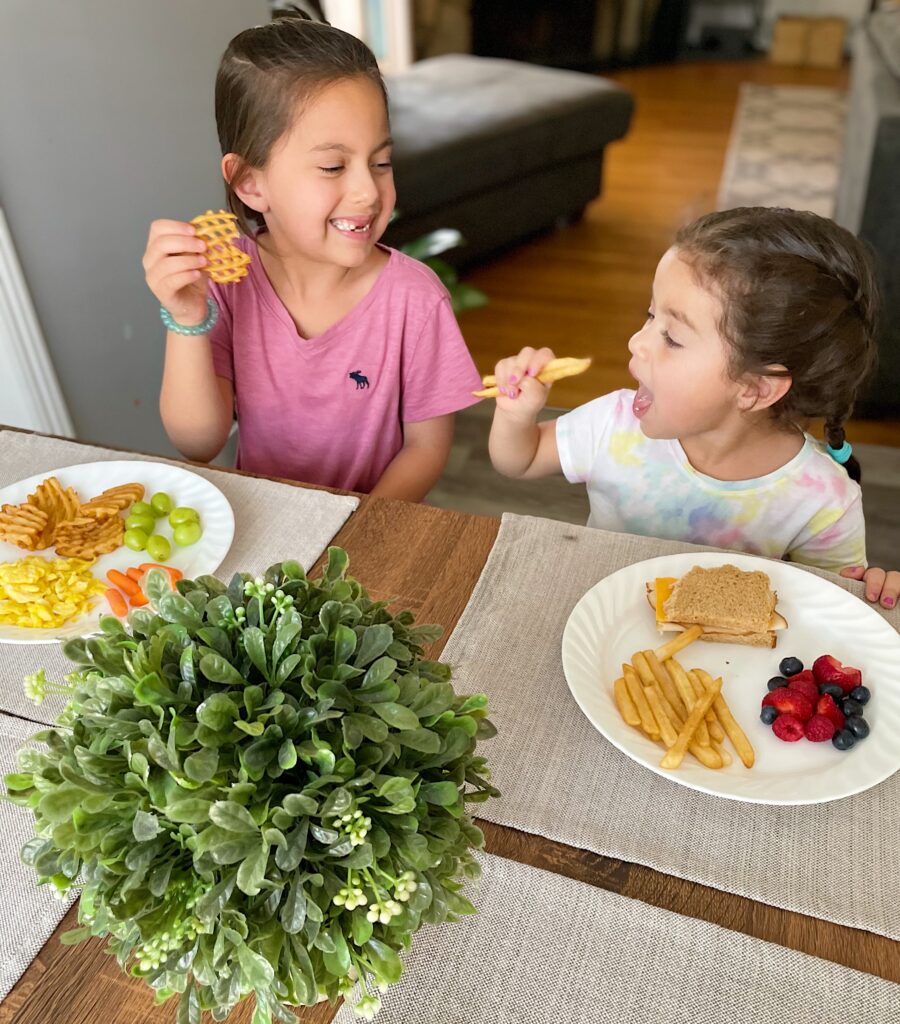 McCain potatoes are made with 100% real potatoes, and they also have no artificial flavors. That means natural potato goodness that you'll be proud to serve. To find out where McCain Quick Cook Fries are located near you, click HERE!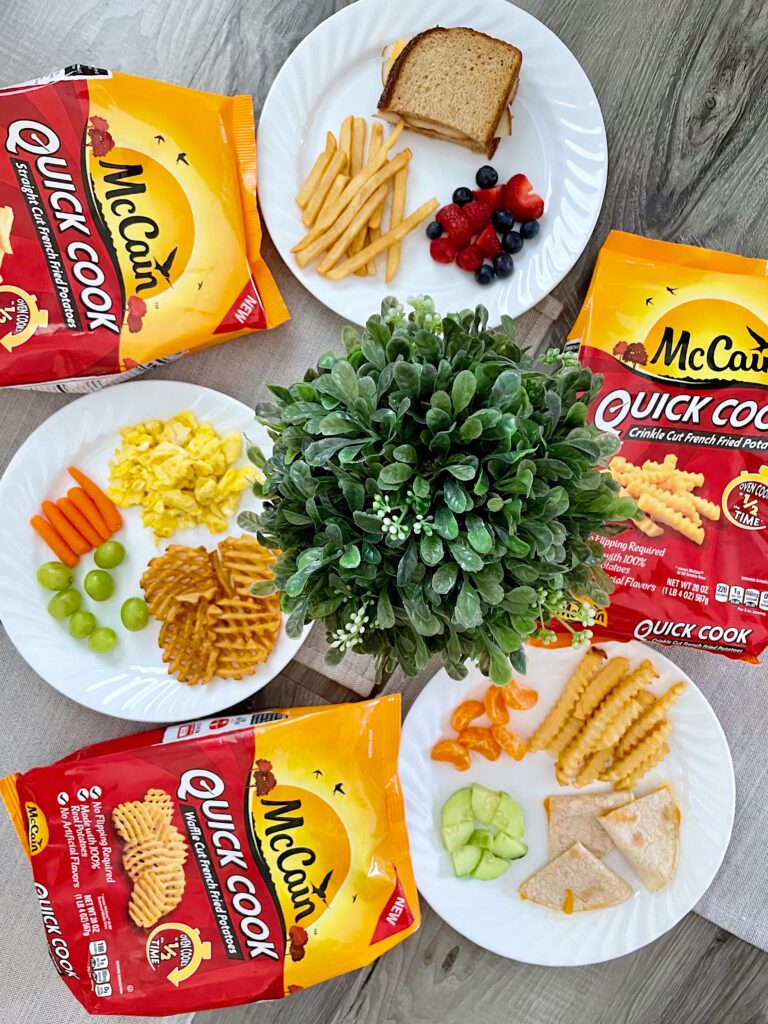 What's one of your favorite quick meals for those busy days? Let me know in the comments!
*Less oven cook time compared to McCain's traditional fries.