All About Gymboree's New Re-Branding and the #MadeYouSmile Campaign!
When it comes to shopping for my girls' clothes, I definitely have a few favorite stores. Gymboree is one of them! Not only do they have super cute clothes but they are also very budget-friendly. Keep reading to learn more about Gymboree and what's new with their brand!
*This post contains affiliate links which means if you click on them and make a purchase, I may earn a small commission. This in no way affects what I am recommending and would only ever recommend products I believe in. We love Gymboree clothes and hope you will too!
The new Gymboree line is cuter and trendier than ever, while still being affordable. They also have tons of different pieces that you can mix and match to create even more unique outfits.
The new line is more modern but also versatile and still very comfortable for the kids. Plus, their quality is better than ever! There's even more for babies, softer fabric, more neutrals and modern details. As always, Gymboree carries clothes for both kids and babies, boys and girls.
Now Gymboree wants to ask you, "What makes you and your family smile?" Tell your stories and share them with the hashtag #MadeYouSmile!
For me, what makes me smile the most, is when we get to travel and experience new things together as a family. Some of my favorite memories are of when we took our first daughter to Disneyland for a year. Seeing the smile on her face as she got to meet Mickey and Minnie for the first time was priceless. She was never afraid of the characters. Instead, she would run up to them and hug them for the longest time. We always had to pull her off of them. 🙂 We can't wait to get back there to take our second daughter this soon.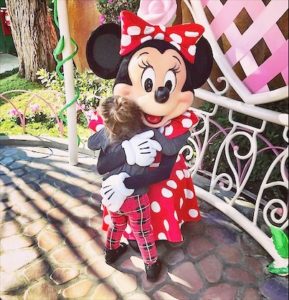 Our family also loves spending time in the water, whether that's a pool, waterpark or beach. Gymboree has some perfect clothes for getting outdoors! This shirt is one of my daughter's current favs! It is super comfortable and perfect for this intense hot weather we've been having. She wears it everywhere these days. She always says to me, "Mommy, I want to wear my surfing shirt. I'm going to learn how to surf one day." And I'm sure she will! 🙂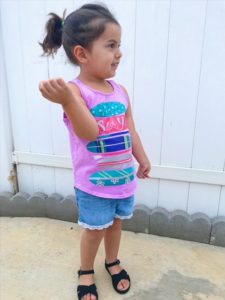 I tried to pick just a few favorite's for summer from their new line and here they are: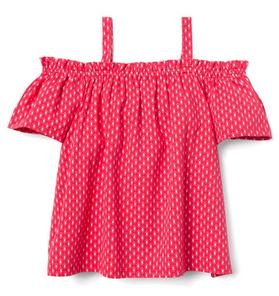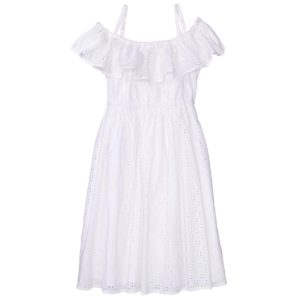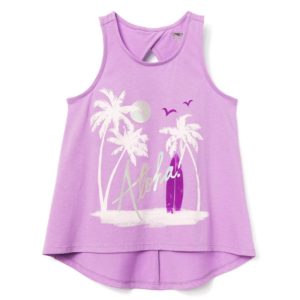 These are just a few! There are way too many to choose from. Don't forget to check out their bathing suits. They are adorable!
I think another thing we love about Gymboree's clothing is the way they make my daughter feel. She feels confident when she gets to pick out clothes she likes and she has several favorites from Gymboree. Confidence is everything when raising our girls. (Feel free to read more about that in my post, Raising Confident Daughters.)
Check out the Gymboree website to see all the awesome clothes, shoes and accessories they have for both boys and girls, babies and newborns or head to your local store.
Now, we want to hear what #MadeYouSmile? Tell your story and share it with the hashtag!
Don't forget! The new Gymboree clothes would be an awesome addition to your kids closet for back to school season. Get started shopping today!
You can save $25 for every $50 you spend right now with Gymbucks.
What are your favorite items from Gymboree? Let me know below!