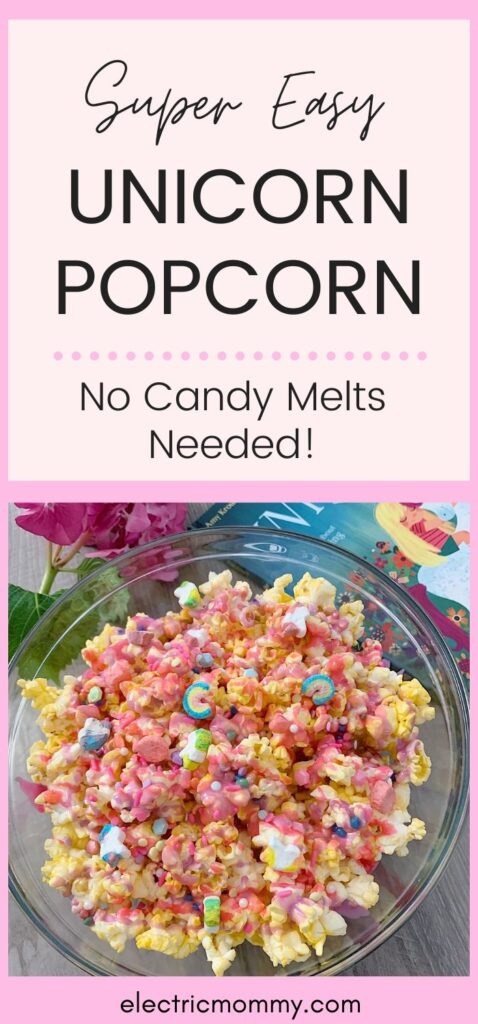 Anyone else have a unicorn lover in the house? My oldest daughter is obsessed with them, which only means that her little sister is too (since she copies everything big sister does right now). They get excited for all things unicorn, so I decided to surprise them with some unicorn popcorn!
I recently shared this recipe on my Instagram account and it did so well that I had to share it here. (Follow along here if you aren't already! I look forward to connecting with you!)
A Fun and Easy Snack
I've been trying to find fun, affordable ways to make the days at home a little extra special and this went over really well! It was easy for me to make and the girls got so excited when they saw the bright colors on the popcorn. It was all worth it for those smiles!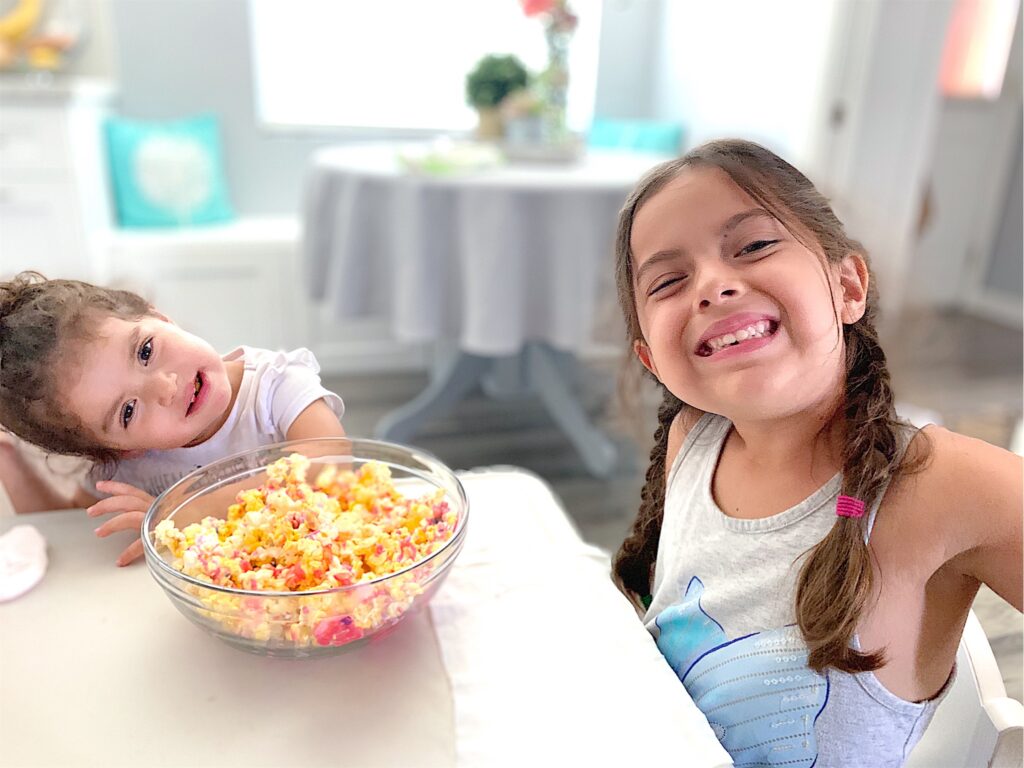 We took our snack and turned it into a movie afternoon. We all watched Tangled together, while we enjoyed our unicorn popcorn. It was a really special treat! Let's just say the girls were really happy – with the popcorn and with hanging out as a family. I think that's the part kids enjoy most sometimes, just being with us. <3
I found the idea of unicorn popcorn circulating on Pinterest, but every recipe I found used candy melts for the colored drizzle. I didn't have any, but I did have some vanilla frosting in the fridge that we'd recently used for cupcakes.
I decided to try melting some of the frosting, added a couple drops of food coloring and it turned into the perfect drizzle for this popcorn!
If you like this recipe, try the High Protein, Kid-Friendly Smoothie!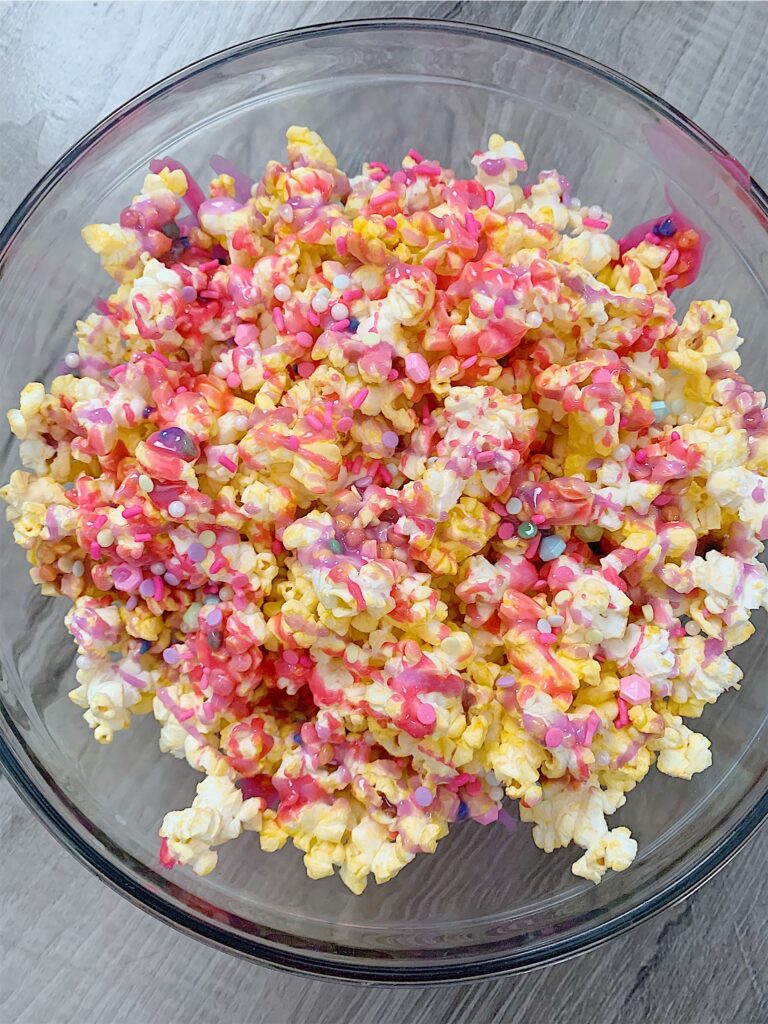 Here's some tips for making sure your unicorn popcorn is a success:
Make sure you don't overheat the frosting. It should only take about 10-15 seconds max.
Don't add too many drops of food coloring or the color will be really dark. Start with one drop and see how you like it. One was a little light for us, so we added two drops.
Be sure not to add the food coloring directly onto the popcorn. Before I realized I had frosting, I tried adding food coloring to the bag and was hoping that I could just shake it up to add color. Well, I was wrong lol. It just stains the pieces of popcorn it touches. You really need something to mix the food coloring with, like frosting.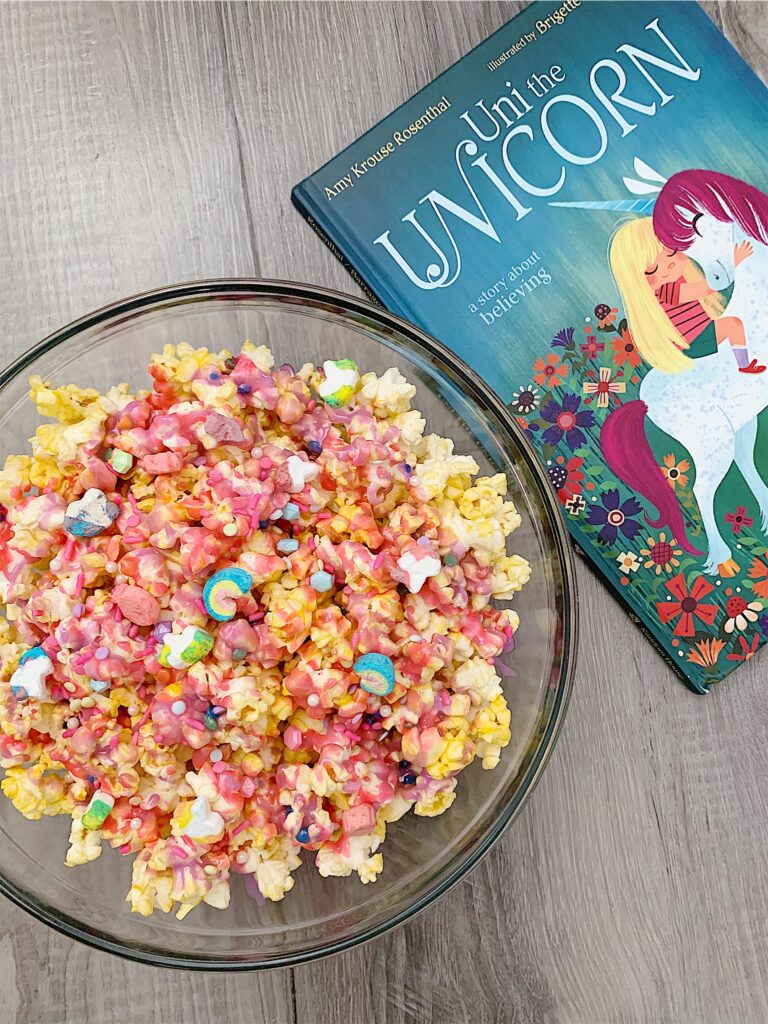 You can also read your favorite unicorn story when eating this fun snack! We love the book, Uni the Unicorn. It is such a cute story about a little girl who believes in unicorns, even when everyone tells her they aren't real. We love the story and the beautiful pictures.
Unicorn Popcorn
A fun twist on a classic snack!
Ingredients
1

bag of popcorn

1

spoonful

vanilla frosting (per color)

food coloring

sprinkles

Lucky Charms marshmallows
Instructions
Heat the popcorn per the directions on the bag and carefully pour into a large bowl.

Scoop one large spoonful of frosting and place in a microwaveable cup or bowl. (I used a glass measuring cup which made it easier to pour the icing onto the popcorn later.)

Heat frosting for approximately 10-15 seconds. Mine had been in the fridge which makes it harder, so if your's is room temperature, try 5-10 seconds first. You need it just barely melted enough, so that it's more of a liquid form than creamy.

Add 1-2 drops of food coloring and stir. Drizzle on top of the popcorn! (Repeat this step for each additional color. In ours, we used pink and purple.)

Now decorate! You can add fun sprinkles, Lucky Charms or whatever else you want to give it some extra flair!
If you try it, I would love to see! Be sure to tag me on Instagram so I can reshare!