My Battle with Anxiety
Anxiety – it's a word I never truly understood until just within the last couple years. We use the word so often in day-to-day situations when we just feel stressed or impatient. However, true anxiety can be debilitating. My battle with it started at a very young age but got much worse after having children.
Google's definition of anxiety is: "a feeling of worry, nervousness, or unease, typically about an imminent event or something with an uncertain outcome."
That still doesn't even come close to expressing the true feelings and symptoms associated with full blown anxiety. In psychiatry, it's defined as "a nervous disorder characterized by a state of excessive uneasiness and apprehension, typically with compulsive behavior or panic attacks." That's a little bit more accurate.
However, I think everyone's definition and experience with anxiety is unique to that person.
I wanted to share a glimpse into my story regarding my ongoing battle with anxiety and depression. Especially with the recent suicides of Kate Spade and Anthony Bourdain, this topic has been weighing heavy on my heart. I don't talk to most people about my mental health issues. Only those closest to me (i.e. my husband, mom and sister) are aware of the constant battle it is for me to just be content every day.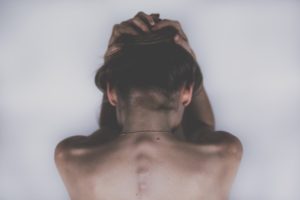 However, I decided to share my story now because I want everyone to feel comfortable talking about it. I want the stigma associated with mental health to diminish. I want people who suffer to know that they are not alone (because when you are deep in your depression and/or anxiety, the loneliness can be unbearable).
I was diagnosed with both anxiety and depression right out of high school. I could go into all the different reasons as to why or how I think this came about, but I don't really think that matter. What matters is how I feel today and my ongoing journey to figure out what helps me manage my anxiety best.
As a child, I always felt different. Now, I don't mean different as in odd or unlike other kids or an outsider. In fact, I had many friends and probably appeared very social on the outside. I just felt like I knew things that other kids didn't. I felt like my thoughts were different and darker than other kids.
For as long as I can remember, my emotions have felt incredibly intense. I've been called "sensitive" more times than I can count. I used to take that as an insult. Now, I'm learning how to embrace that side of myself because I think it's one of the parts of anxiety that is special and can be a positive thing.
For example, when I see a homeless person on the street or hear a story on the news about a child being hurt, the feeling of sadness or empathy, or whatever it is, consumes me. This goes for positive emotions as well. It's very hard to describe but the best way I can put it, is that I tend to feel like my emotions are much more magnified than the average person.
I think my passion and love for music also stems from my anxiety. Music is different for me. I feel like certain songs make me physically feel a certain way, as if I can personally feel whatever the artist is singing about.
Carson Daly recently came out and shared his story about battling anxiety and panic attacks. (Check out the interview here.) I think he described it best when he said, "I'm very sensitive, I love music, and music moves me in a very visceral way physically, so I get the chills hearing soul music, definitely." Ditto. 🙂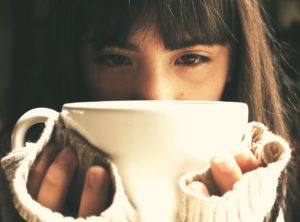 I was a perfectionist in school (and still am to this day). I always had to be the best and if I wasn't, that bothered me tremendously. In some ways, my anxiety has been a positive thing. I feel like some of us with anxiety are excellent employees or students. I usually feel the need to stay busy, to distract myself from my own brain, so I dive hard into work or school.
I have gone to several psychiatrists and psychologists and have been on and off medication over the last fifteen years. I always fought against being on medication. I can't really explain why. I think maybe it has something to do with the fact that it makes me feel "crazy" or "weak." My brain wants to tell me "hey, you shouldn't need medicine to function. Only really sick people need that." Therein lies one of the cruel tricks our anxious brains play on us.
My current situation is this – I am now a mom to a three year old and a baby. Once my first daughter was born, I feel like my anxiety got much worse. Now there was this whole other human to worry about and I (and my husband) were in charge of keeping her alive! I worried about everything when it came to her. These thoughts consumed me and I turned to alcohol during this time to numb my intense emotions and ended up in rehab a year later. (I will go into this more in another post.) So now, I have to add addiction to my story, as I know many of us do who suffer from mental illnesses.
Then, after my second daughter was born, I began to completely spiral out of control.
For close to four years after she was born, I tried to fight my battle with anxiety on my own – without medicine, a psychiatrist or a psychologist. Most days, I felt okay (whatever the hell "okay" means anyway). I wanted desperately to just be able to feel normal without medication. I faked it for a long time although, in the moment, I really had convinced myself that I was okay and that maybe my depression and anxiety had magically gone away.
Then, my first panic attack happened and my battle with anxiety got even more intense. 
Before my kids were born, I was working hard in my career and was climbing that corporate ladder. I loved it. My job was fast-paced, stressful, and lots of people relied on me to make decisions in real time. I fed off of that energy and got to a point where I would work 12-13 hour days, just to keep myself busy and away from having to be alone with myself and my thoughts.
Looking back, I can see the different methods I turned to in order to help me cope with my depression and anxiety (again, which I will save for another post).
After my first daughter was born, I returned to work after the standard three month maternity leave. I worked for a year and that year was when everything began to spiral out of control. I'm currently reading this amazing book, "First, We Make the Beast Beautiful" by Sarah Wilson and she explains what she likes to call "anxious spirals." They are different than panic attacks and that is what I believe started happening to me during that year I was working.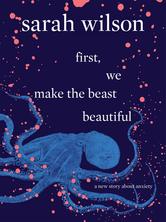 I never planned on being a stay at home mom. In fact, the idea very much turned me off. However, I became obsessed with the fact that I was missing out on much of my baby's life. I started to become very depressed and lost control of my life. I turned to alcohol during this time to try and numb the intense emotions I was feeling, and things got ugly fast.
This is wear the title of this post comes from – for a long time, I felt as if I was wearing two masks. I was one person during the day at work and also with my family. I seemed fairly functional and thought I had everyone convinced that I was fine. The other side of me was dying inside, both figuratively and literally. I was slowly killing myself with how much I drank everyday. Then again, I desperately wanted to be that perfect wife and mother so I faked being "okay" for close to a year before my husband finally confronted me and calmly let me know I needed to get help or else he would leave and take my daughter with him. That was all I needed to hear and at that point, I was just glad that he finally knew. That help was finally on it's way. That I didn't have to face this alone anymore.
In the end, with a lot of help from professionals and my family, I started to get my shit together. My husband and I both agreed that it was probably best for me to stay at home with my daughter. We thought that was what would make me the happiest – and it did for quite a while. I no longer had to juggle a stressful job and also run a household and raise a child. Cutting out the job part should have been the answer, right?
What I'm learning is that my anxiety and depression will always be with me. I've tried running from it my whole life and am just now realizing, at thirty four years old, that it's never going to go away.
What I need to do is learn to embrace it and find out what methods for managing it work best for me.
Follow along on my journey! I'll end this post now as it's getting quite long but check in as I will continue to share posts of what methods are working for me, updates on my own battle and I would love to share other people's stories as well! If you are interested in sharing your story here, just email me at [email protected].
I truly hope that by all of us opening up and sharing our struggles, it will help more and more people feel less alone. Then, maybe it will spread even bigger and start to change the access to care for those who suffer (because right now our system sucks in regards to finding easy access to medical help).
Thank you so much for reading my story. Please don't hesitate to share yours! I'd be happy to post them anonymously if preferred. I am also hear to talk if you just need to reach out to someone you feel like understands what you are going through.
Love – Your Anxious Friend, Meghan