This high protein smoothie is perfect for the picky eaters in your family. It packs in fruit, veggies and protein all in one drink. And the best part – it's super easy! As a busy mom, I love a good recipe that's fast and healthy at the same time.
Recently, I think my two year old daughter unknowingly decided she was vegetarian. She went from eating almost everything we gave her, including chicken and salmon, to no longer wanting anything to do with meat or fish. In fact, it seems like she doesn't want anything to do with protein at all.
There are very few things that she'll try lately, so I'm left trying to get creative with different ways to get some nutrition in her. I try really hard to feed her as healthy as possible, with very little processed foods. She's great with fruit, but getting her to eat anything else right now is a challenge.
One thing she absolutely loves is frozen yogurt. (I mean, who doesn't right?)
Then, I realized I should try making her a smoothie! I love them for myself and it's such an awesome way to sneak in some veggies and protein for a picky kid, like my daughter.
I tried to think of what ingredients would taste good together and also provide some much needed protein for this little girl. I ended up throwing in some frozen strawberries, bananas, peanut butter, soy milk and spinach. And… it was a success! She drank the whole thing!
WHAT YOU NEED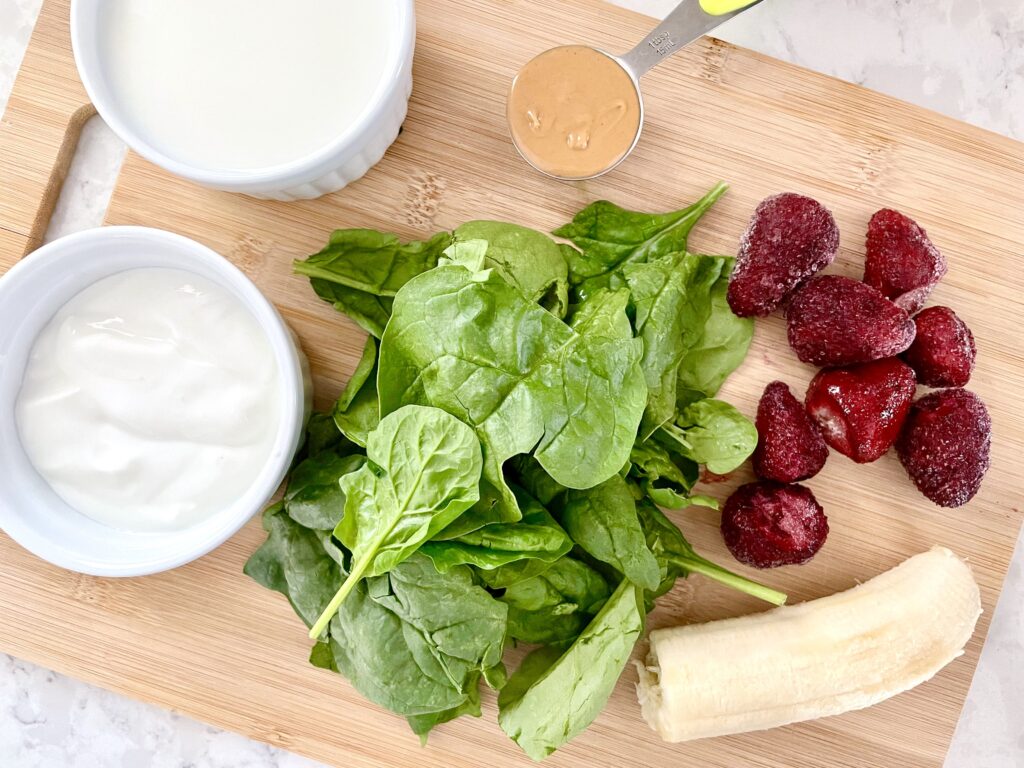 Banana – About half of a ripe banana.
Strawberries – You can use either fresh or frozen. I like using frozen because it helps make the smoothie cold. However, you can use fresh strawberries and just add 1-2 ice cubes to the blender.
Milk – I used regular 2% low-fat milk, but you can use whatever your preference is. Almond, oat and soy milk also work well in this recipe.
Greek yogurt – I love the Chobani brand, so I always use one of their vanilla Greek yogurt cups. However, any brand works, but make sure it's Greek yogurt. It has higher levels of protein than regular yogurt.
Peanut butter
Spinach
WHICH BLENDER IS BEST?
To make all my smoothies, I use this Ninja blender. I am in love with it! It took me a long time to invest in a good blender but now that I have, my only wish is that I did it sooner.
I love this one because it can blend almost anything, it's super easy to clean and it came with two individual size cups. You can make an individual smoothie really quick and just take the cup with you!
Another great blender is the Vitamix. Our friends over at Kitchen Fold did an excellent comparison of the Ninja and Vitamix that you can read here. They break down the performance versus value for each, so you can decide which one is best for you.
Here is my super simple, kid friendly smoothie recipe: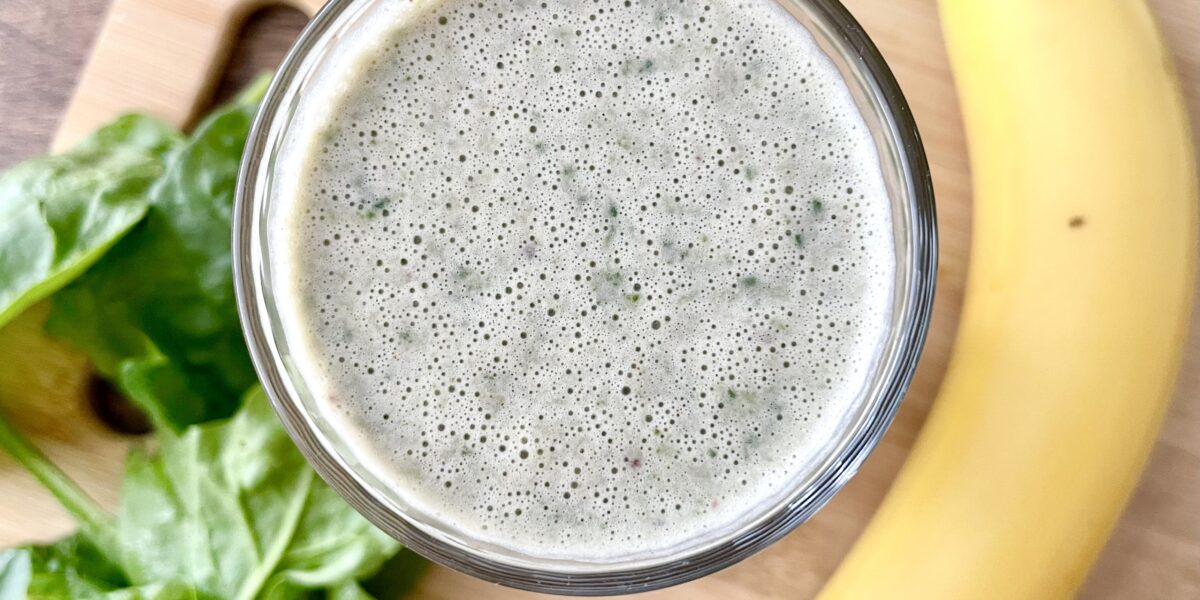 High Protein Smoothie for Kids
This delicious smoothie is a great way to sneak in some protein and veggies! *Picky eater approved*
Ingredients
1/2

banana

8-10

frozen strawberries

1

cup

milk

1

5.3oz cup

Chobani Greek Yogurt - Vanilla

2

tbsp

peanut butter

1

cup

spinach
Instructions
Throw everything in the blender and mix well. Serve immediately and enjoy!
Recipe Notes
Approx. Calories 275 | Protein 15g per serving
For a fun recipe to try with your kids, check out my Unicorn Popcorn. It's a fun treat to have on movie night!
And if you give this one a try, I would love to hear if you or your kids enjoyed it. Let me know in the comments!