To say my mom and I are close would be an understatement. She is more than my mom, she is my best friend and someone I can count on for anything. We have always lived within twenty minutes of each other so when a year ago, she decided to move to Phoenix, AZ, it was tough news to hear.
She decided to make the move to be with her new husband. A part of me was extremely happy for her to have found someone that made her happy and that loved her in return.
Growing up, she was a single mom that raised my sister and I on her own and never dated at all because she was solely focused on providing for and raising her girls. Now that we were older, I wanted nothing more than for her to be happy and to do whatever it took to make that happen.
Well it took her to Phoenix and it took her there just around the time my first daughter was one year old.
My mom is the kind of person who loves kids; if there is a baby in the room, she is the one holding them. She never turns down an opportunity to babysit. This is why it was even more surprising to hear that she would be moving because she would be moving further away from her granddaughter.
However, I fully supported her decision. Anything that would make her happy! Plus, now we would get to explore Arizona from time to time.
This past weekend was one of those trips to visit Mimi (as my daughter calls my mom).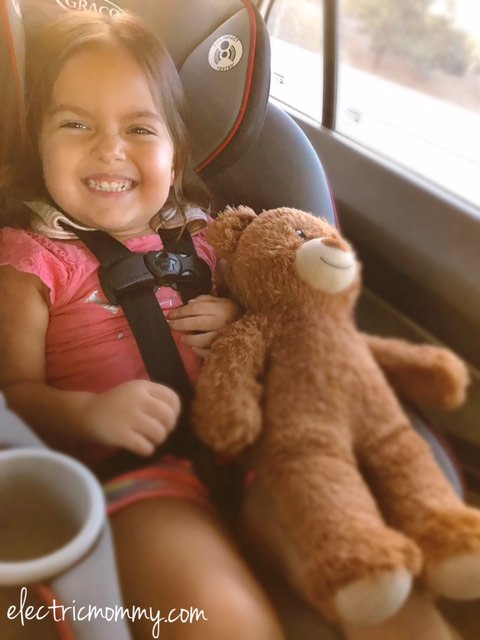 We left Los Angeles on Thursday night. We got stuck in that LA traffic on the way out, but overall it wasn't a bad drive. Kaia was such a trooper! She really does amazing in the car. I feel very lucky. As long as she has her iPad and can watch a movie, she's good. I'm not so sure how great she would be without that iPad though. 😉
By the time we arrived, it was the middle of the night so we all went straight to bed. Once we woke up, the first thing to do was open all the new toys my mom had bought for Kaia. It was like Christmas morning! Kaia was very excited. She even got a doctor dress-up set that she adored!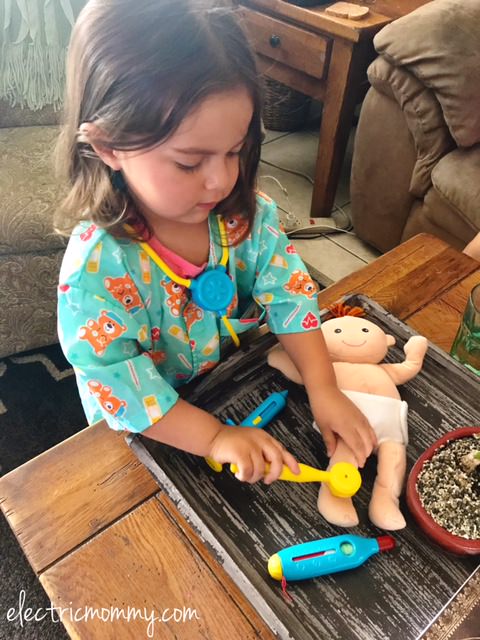 Then, we decided to head over to Cracker Barrel for breakfast. We don't have any of these restaurants yet in California so I like to eat here when I get the chance. I just love the cheesy hash brown casserole that comes with most of the breakfast dishes. Kaia loved their pancakes, of course. I think she would eat pancakes for every meal if she could. They are definitely a favorite food for her at the moment.
Once we got back home, we spent some time in Mimi's pool. We don't have a pool at home so we jump at any chance we get to go in one. I love being in the water and Kaia does too. This was one of the things I was looking forward to most on our trip. At a little over seven months pregnant, being in the water feels amazing. It really helps relieve some of the pressure on your body.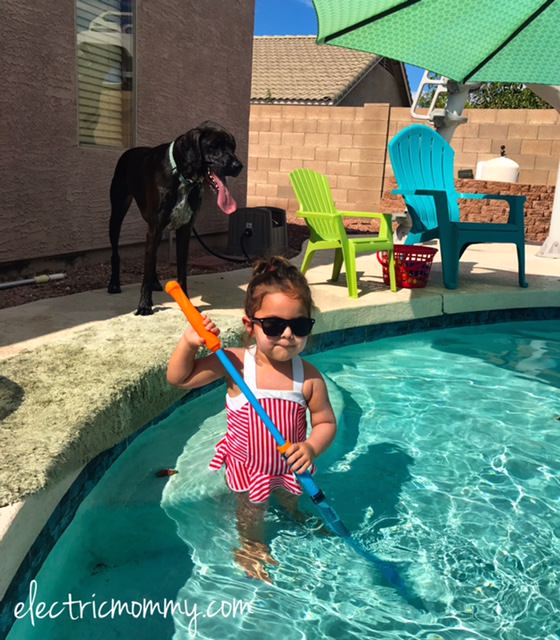 Friday night, we went to a beautiful restaurant in Cave Creek called El Encanto. If you are ever in this area, I highly recommend this place! It was amazing! It's a Mexican restaurant that has a really nice atmosphere. The restaurant wraps around a little lake with fish and turtles in it. There are also ducks on the pond that you can feed! Kaia really enjoyed that part.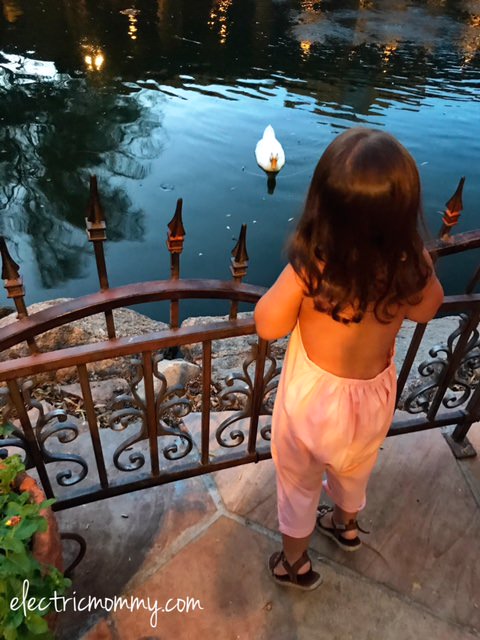 The food was delicious. I can be a bit picky when it comes to Mexican food but this place did not disappoint. All of us really enjoyed our meals.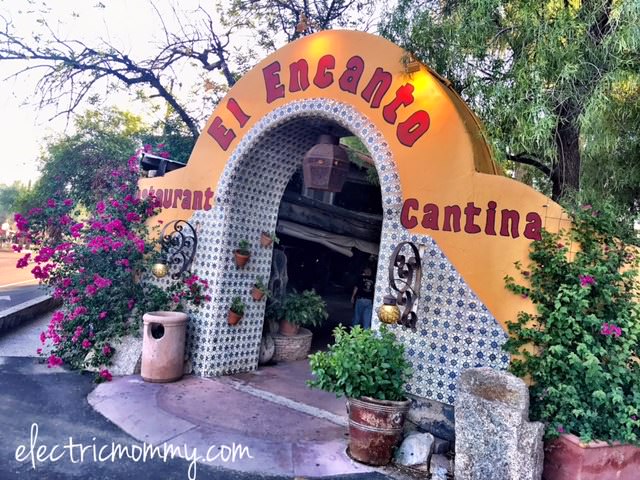 On Saturday, we decided to relax in the pool most of the day. There had been some monsoonal storms leading up to the weekend, but Saturday was nice weather for being in the pool. Don't get me wrong, it was very hot – but it wasn't bad if you were sitting in the pool.
For lunch on Saturday, my husband and I went to try out a Mongolian BBQ restaurant while my mom stayed back to take a nap with Kaia. It's always good to get some alone time with my best friend.
We tried a place called YC's Mongolian Grill in Scottsdale. This was another hit! All of the meat and veggies were super fresh and the portions were huge. It was an amazing meal that made this pregnant mama very happy.
We spent the rest of Saturday in and out of the pool and catching up with my mom. It was a really nice, relaxing weekend and I'm glad we made the trip out to see her and her husband.
It's always a bit sad when we part ways because we don't get to see each other as much as we would like but thank goodness for Face Time! Kaia calls her Mimi every day via Face Time and it really helps her stay connected.
Did you go on any trips to visit family this summer? Or do you have loved ones that live far that you wish you could see more often? If so, what helps you stay connected?