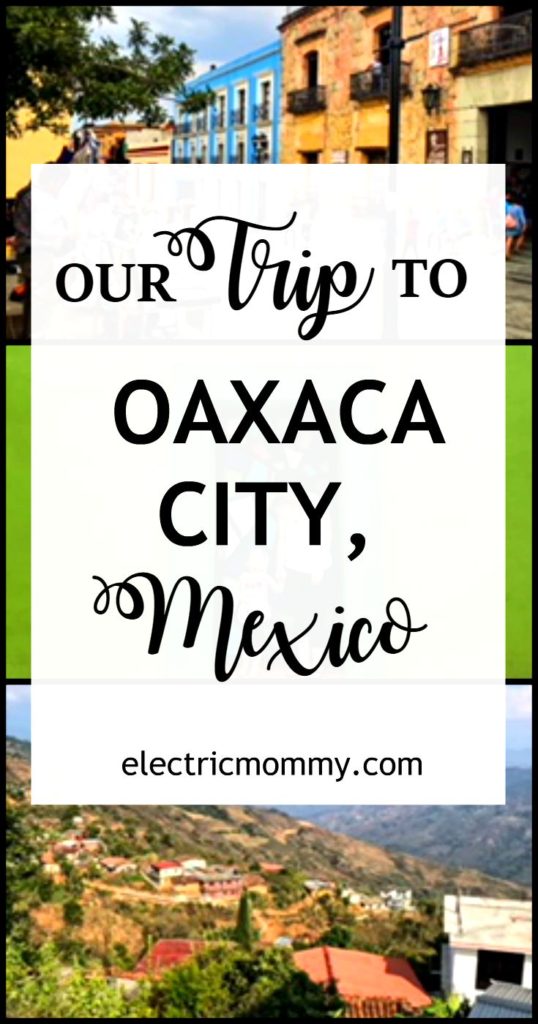 *This page contains affiliate links which means if you click on them and make a purchase, I may earn a small commission. I only recommend brands or services that I absolutely love and trust.
How many of you have heard of Oaxaca, Mexico? I know that I hadn't until I met my husband. This is where he was born and where a lot of his family still lives.
I also learned that the Disney movie Coco was inspired by the town of Oaxaca. They did an amazing job of representing the traditions, culture, colors and most importantly the significance of family.
We recently took a trip there to visit my husband's family. One of his grandmother's is just like Mama Coco. She suffers from Alzheimer's and we aren't sure how much time we have left with her. That's why it was so important for us to make this trip as soon as possible.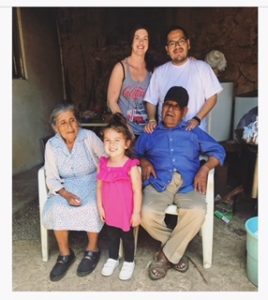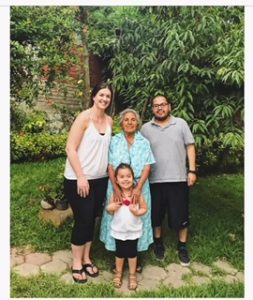 We took off on a Saturday and arrived late Saturday evening. We stayed at an incredible Airbnb! It was beautiful. Whenever we travel, I try to use Airbnb as much as possible. I have never had a bad experience and it is always much better accommodations than staying in your standard hotel room.
We stayed at a gorgeous home hosted by Moises and I can't say enough about it! It was beautiful. It had three bedrooms, two and a half baths, a little garden off the living room and a beautiful terrace on the top of the roof. It also had a full kitchen and dining room. It was really amazing and you can't beat the price! Plus, we had the entire home to ourselves! (When renting on Airbnb, you have the option to rent a room or an entire home and we chose to rent an entire home.)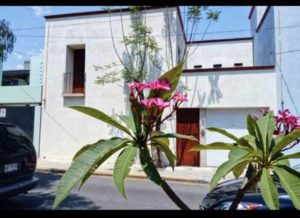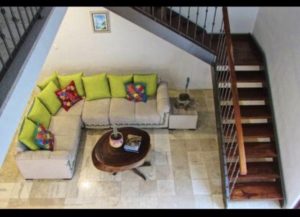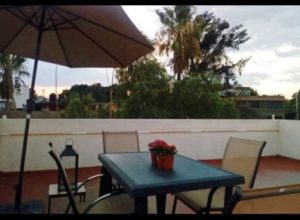 Click here for more info about the house we stayed in!
If you do choose to use Airbnb for your next vacation, click here for my referral link and get a $40 credit!
Since it was so late, it was hard to find restaurants that were open. It seems like the popular time for restaurants to close is 10:00pm and it was just after that. However, we were starving and went in search of somewhere to eat anyway.
We ended up in the Zocalo, which is an area in downtown Oaxaca. It is definitely a more touristy place in the heart of the city, but it was the only place that had an open restaurant. It ended up being quite a lively spot as well. There was a band playing in the courtyard and lots of people were dancing. While we were waiting for our food, Kaia would grab our hand every time a song started and pulled us out to where everyone was dancing. My baby is just like her Mama! We love to dance!
This wasn't my favorite place however. It was very touristy. There was a lot of people trying to sell things and the food wasn't that great. It was average at best. I wouldn't really recommend this spot unless of course it's after 10:00pm, since we couldn't find any other options for food at that time.
Sunday, we woke up and headed to visit some family. We went over to my husband's aunt's house where they laid out an awesome spread of breakfast for us. We had pan dulce, eggs, black beans, tortillas, cecina (which is a meat that has been salted and dried) and grilled chiles. It was delicious! I am known for being incredibly picky when it comes to meat; so picky in fact that I often just won't try meat period. However, I fell in love with the cecina. It has such a good flavor!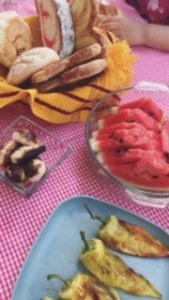 After breakfast, we headed back to the Airbnb so Kaia could take a nap. This girl needs her naps or she is a MESS! During that time, some of my husband's cousins came over and we headed out to explore the streets of Oaxaca once Kaia woke up.
If you have been following my blog or Instagram, you know that I absolutely love bright colors. Well, Oaxaca is just the place to be for someone like myself. Every other building and house was a different color – from green, to bright blue and hot pink.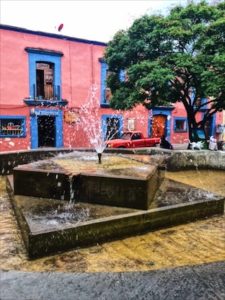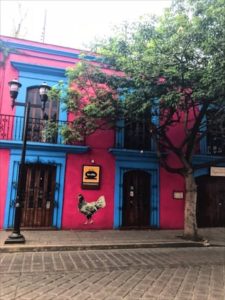 After walking around downtown for a bit, it was time for lunch. We ate at Alhondiga Reforma Mercadito Gourmet. This place was amazing! I had never seen anything like it before.
Once you walk in, you pass a beautiful waterfall and are surrounded by lots of plants, greenery and art. There were lots of tables and a very rustic vibe to the place. The best part was that there were so many options for food!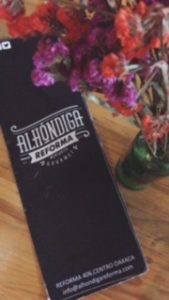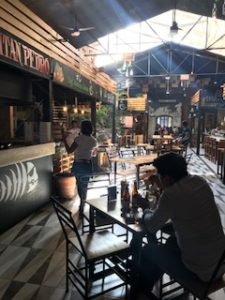 They had different stations where you could get pasta, seafood, pizza, traditional Oaxacan food, sushi, and a full bar. It was my favorite restaurant by far! I chose to have some pasta with albondigas and my husband had a traditional tlayuda (which is basically like a Mexican pizza with a black bean paste instead of tomato sauce). We also decided to split an order of Oaxacan french fries because why not? 😊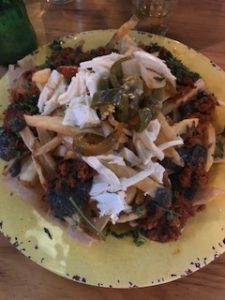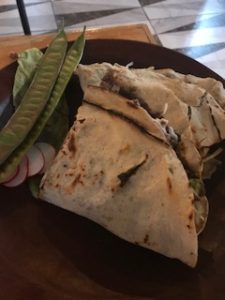 Once we left the restaurant, we decided to explore downtown Oaxaca. We strolled up and down the streets and saw some beautiful architecture. Not only were there some beautiful buildings, but the people were very friendly. There were lots of street vendors selling everything from food, drinks, toys and lots of stands that specifically sold alebrijes. Alebrijes are brightly colored Mexican folk art sculptures that are beautiful.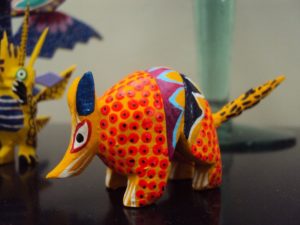 Then, for the best part, we came across an ice cream stand that sold horchata topped with your favorite ice cream flavor. I'm not kidding – I cannot get over how delicious this was! Now, if only I could find somewhere in Los Angeles that makes it the same way…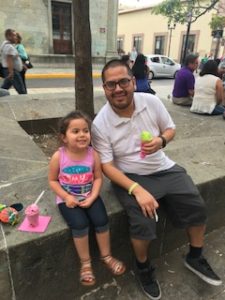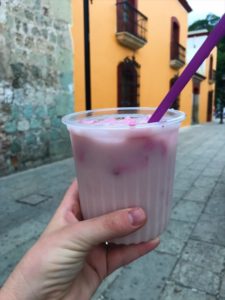 Pretty soon, it was time to call it a day. We had to be awake and ready to leave the house by 5:00am the next morning to drive to the mountains where more of my husband's family lives.
His family is from a small village in the mountains called Solaga. It is about a three hour drive from Oaxaca city. The population is about 500 people. It is beautiful and it feels like you are stepping back in time.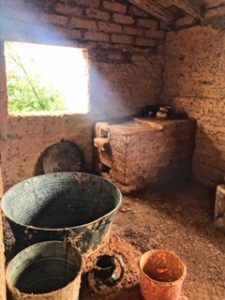 Everyone here lives off the land. My husband's grandma has chickens, a pig and lots of fruit and vegetables that they grow right there. Needless to say, everything is extremely fresh and comes right from the land.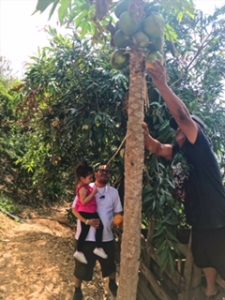 When we first arrived, his grandmother insisted on making us breakfast. She gave us coffee, quesadillas, caldo de pollo soup (which is basically just a chicken and veggie soup) and of course eggs, for my picky little Kaia. We spent the day visiting with her as well as my husband's other grandma, the one suffering from dementia.
We had a wonderful time visiting with the family. Kaia got to play with one of her cousins who is the same age, that she had only ever met once. I got to relax and just recharge. There is something extremely peaceful about being up in those mountains, away from civilization. The views are gorgeous! You are completely surrounded by beautiful mountains. It is breathtaking!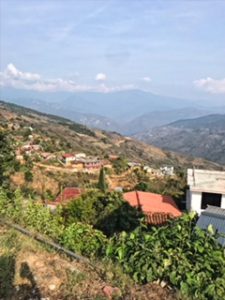 After a day of visiting with family, we had to drive back to Oaxaca. We arrived late and we were all so tired that we went straight to bed.
Tuesday morning, we woke up and got ready for more exploring! We started off the day with breakfast at a restaurant called Casa Oaxaca Café.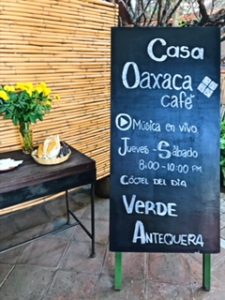 The dining area was beautiful! It was like we were eating in a garden. There were lots of plant, flowers and a fountain. The service was amazing as well! We found this place on Yelp because it had really good reviews but personally, the food was just okay. It was good but nothing spectacular – just your typical Oaxacan food. We shared some pan dulce, I had some chilaquiles with cecina, my husband had an omelette and of course Kaia just ate some eggs and tortillas.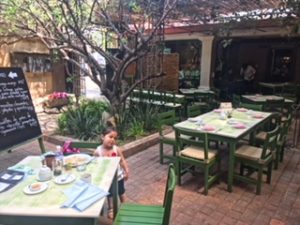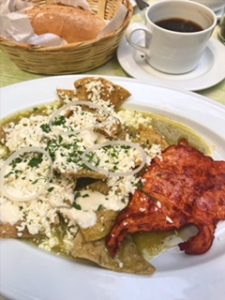 After breakfast, we went to my husband's aunts house where his grandmother was. She drove back with us from Solaga the day before to spend a few days in Oaxaca to go to the doctor. We spent more time with family here and then decided to go explore some more of Oaxaca.
Since I had fallen in love with the bright colors and art in Oaxaca, Alex's cousin decided to take us to some streets that a lot of the tourists don't know about. We found some awesome colorful buildings as well as some amazing street art. After walking around for a while, we ended up back in downtown because we all wanted another horchata with ice cream. 😊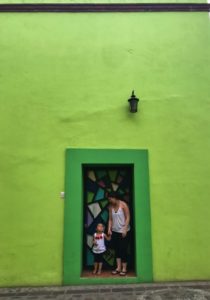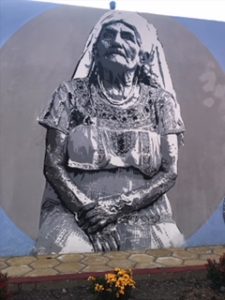 Once we were done exploring, we went back to my husband's aunt's house and spent the rest of the night with family. A lot of people came over to see us and Kaia had a blast playing with some of her cousins.
Soon though, it was time to leave. Our flight left early the next day and we needed to get to bed and get some rest.
Overall, our trip was an amazing experience. I would highly encourage everyone to visit Oaxaca. It is a beautiful town full of life and culture. We can't wait to go back!
**As a side note, Kaia did AMAZING traveling. Her iPad really was a lifesaver on the plane rides. She also ended up falling asleep for an hour or so both ways, which helped a lot. My best advice, keep your toddler's schedule in mind. For example, one day we did need to come back and let Kaia take a nap. A rested toddler just makes for a much better trip.
What are some of your favorite family vacation spots? And what tips do you have for keeping your little ones entertained on long drives or plane rides?