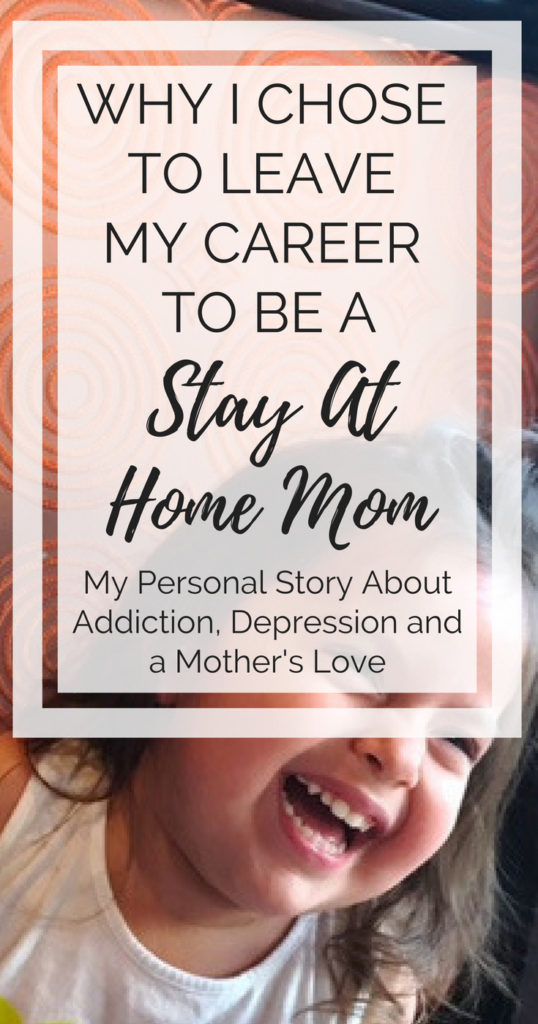 When I sat down to write this, I have to admit – I was scared. It's hard to share such a personal story but I hope in sharing this, that it might help someone else that may be going through something similar. I want to share with you how my daughter and the choice to leave my career may have saved my life and ultimately helped me to be a better mom.
When I found out I was pregnant with my first daughter, it came at a very dark time in my life. I was in the middle of a serious battle with alcohol addiction and was close to losing my then boyfriend (now husband).
I've battled depression and anxiety for as long as I can remember.
Then, in my twenties, I had a series of events that just added to the chaos in my life.
On the other side of all this, my career was thriving. I was what they call a "high-functioning" alcoholic and always managed to show up and do well at my job. I had been with the same company for about seven years and was doing well for myself. I had worked my way up the ladder and was making a comfortable salary, especially for someone in their twenties with no degree.
Just before I turned thirty, I was given a final ultimatum by my husband to quit drinking or he was going to leave. I told him I could stop and did so for about three weeks only to then find out I was pregnant.
This news changed my life.
I became even more determined to get healthy and to stay as far away from alcohol as possible. I was thankful that my daughter would never have to know the dark side of me that came out when I drank.
My pregnancy went relatively smooth. However, I remember the concern that my friends and family had about me possibly being affected by post-partum depression due to my struggles with mental health issues over the years. I surprisingly didn't dwell on any of this. I felt very calm during my pregnancy and was excited and happy to become a mom. I did try to keep this in the back of my mind though, and did a little research on some of the symptoms just so that I could be prepared if I did suffer from any of them.
Soon, the day came when my daughter was born. It was by far the best day of my life. I felt like I bonded with her instantly. Everything just came easy, including breastfeeding which I had heard could be very challenging. (It ended up being much tougher as time went by which is why I hose to formula feed my second baby. See more about how I made that decision here.)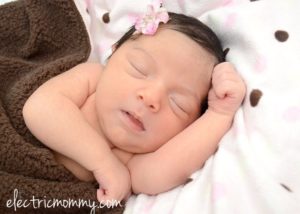 The next three months of my maternity leave were the best months of my life up until that point. I was happier than I had ever been and I felt a new-found purpose to my life. I had felt alone and lost for so long and used to constantly question why I was even here.
My daughter changed that. As cheesy as it sounds, she made me want to be a better person.
The day came when it was time to return to work. During my maternity leave, I had been talking to a company that wanted to hire me in the same field I had been in at the previous company. I decided to take them up on their offer. This meant that after my maternity leave was up, I went on to start a new job.
Everything seemed to be going smooth at first. I jumped right in to my new position and got back in the routine of a normal work day. Thankfully, my mother-in-law didn't work so she was able to care for our daughter full time while my husband and I worked. This eased some of the stress of having to leave her for the day. At least I knew she was somewhere safe and with someone that would take good care of her.
Then, things began to change.
I don't remember exactly when or why but I soon started to feel worse and worse about having to leave my daughter all day. I began to feel extremely resentful. I was mad and upset that I wouldn't get to be there for some of her first milestones. That I wouldn't be there for her every time she cried. That I was missing out on bonding time with her.
These feelings just got worse and worse. I was missing my daughter terribly. I was also beginning to hate my new job and my new boss. Then one day, I decided what better way to make these feelings go away then to have a drink. This was, of course, a horrible decision that sent me on my most destructive path yet.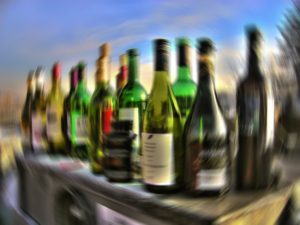 The next few months of my life were hell. I was trying to hide the fact that I was drinking again while also trying to show up for work and be a new mom. I felt like I was living two lives while being consumed with guilt all the time because of the secrets I was hiding. I wanted help but didn't know how to ask for it.
Finally, the day came when my husband confronted me. He did so in the best possible way. Looking back, I'm sure he was filled with anger, hurt, disappointment and a bunch of other emotions but he came to me with genuine love and concern. I never felt like he was judging me and he made sure I knew he would be there with me through this as long as I got help.
I was ready and willing to do anything at that point. I knew I couldn't fight this thing alone anymore.
This is when my road to recovery really began. I got some professional help and started to slowly heal. I took about a month off work to really focus on myself. I had a lot of time to really think about what was best for me and whether or not working after my daughter was born was part of the problem. I talked to my husband and we had to make some tough decisions about what would be best for me and for our family.
The decision to quit my job and leave the career I had worked so hard for didn't come easy.
I was surprised at how hard it was for me to return to work after my daughter was born. I had never considered the option of becoming a stay at home mom. I just didn't it was for me. I always pictured myself going right back to work and being that working mom who juggled everything perfectly.
Well clearly, that wasn't the case and I realized that what was best for me was to leave my job and stay home with our daughter. We knew we would have to make sacrifices. I was making a good income and we were about to give that all up. However, after many talks between my husband and I, we decided it was possible to live off one income and I would stay home to raise our daughter.
I know being a stay at home mom isn't for everyone. Like I said, I never thought it would be for me either. However, it's been the best decision I've made and I have never regretted it for a second. Not only have I removed the stress from my job and been able to focus on my recovery from addiction, but I've also become the mom and wife I always knew that I could be. I've never felt more happy, healthy and strong as I do today.
We all have different reasons for why we either choose to go back to work or choose to stay at home. What I've learned is that we should never judge another parent's decision. We all have things we are struggling with and what's right for one person, may not be what's right for another. Parenting is hard and I think that as long as we are doing our best, then we are doing pretty damn good.
Are you a working parent or a stay-at-home parent? What have you found works best for you and your family? Or are you a parent that has struggled with addiction? I would love to hear some of your stories! Feel free to leave a comment or reach out to me via email.