It's around 2:00pm on a Sunday afternoon and I'm trying to think of something fun our family could do before the weekend ends. Our little monkey has taken a long nap so she is rested and ready to go. The question is – where could we go on such short notice that would be fun, not too expensive and something not too extreme for a mom who's also seven months pregnant?
That's when I remembered the commercials I had been seeing for the Orange County Fair. Now, I was raised in San Diego county so the only fair I knew growing up was the Del Mar Fair. As of Sunday, I had never been to a fair in Orange County or Los Angeles.
That was about to change as the three of us set off to visit the OC Fair!
We left Los Angeles and arrived at the fairgrounds around 4:45pm. It turns out we couldn't have picked a better time! There were lots of people leaving and tons of great parking spots.
We made our way to the entrance gate and immediately we could smell the intoxicating aroma of smoky BBQ. This pregnant girl couldn't wait to see what food possibilities lay ahead. 😊
Our first stop inside was the ticket booth. My little girl is a thrill seeker and was more excited for the rides than anything else. "I wanna go high in the sky Mommy!" she said, over and over. It was so much fun to see her eyes get wide as she took in all the sights and sounds around her.
We then decided to walk around and see what the fair had to offer. I couldn't believe all the food there was! We walked down a row that was lined with all different kinds of food stands. I saw turkey legs, funnel cake, ice cream, fried Oreo's, chocolate covered bacon and BBQ corn just to name a few. The turkey legs were lined up in what seemed like never-ending rows and they looked delicious!
Before we ate, we stopped at a couple of mazes that K bear was tall enough to enter. You make your way through a maze and end up at the top of a slide, which you can then slide down. In my opinion, these mazes are a waste of six tickets (and that's six tickets EACH if your child is smaller than the required 42" to enter alone). Our daughter didn't seem to enjoy these very much.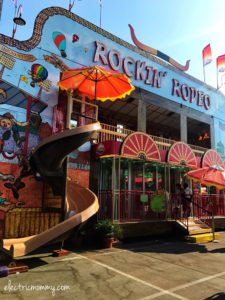 Next, we stopped to grab a bite to eat. My husband decided to try one of the BBQ stands and I chose a funnel cake topped with strawberries and ice cream. K bear was being extra picky at the time and didn't want to try anything. She just wanted to get on some more exciting rides! That was all she could talk about.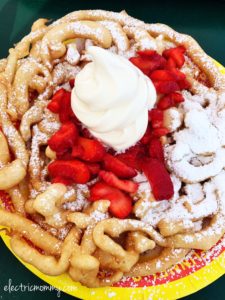 We finished eating then set off to find some better rides with a minimum height requirement of 36" or less. At first, these were hard to find. Then, a nice woman that worked there told us about Kid Land, which was located at the other end of the fair. She explained that this area was specifically for smaller kids. This sounded perfect!
As we worked our way over to Kid Land, we saw a tent that said "Explorium" on it. That caught our attention and we decided to check it out.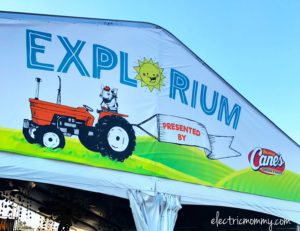 I'm so glad we did! This was an awesome tent with different play stations set up. It's the perfect area for toddlers and even kids a little older.
We first stopped at the Kid's Café station, a spot with little tables and kitchens set up and lots of plastic food. My daughter loves pretending to cut the food that Velcro's together and they had lots of these!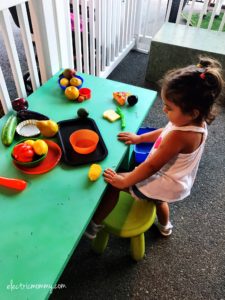 After that, we moved on to a huge sandbox the kids could play in. There were a bunch of sand buckets, shovels and other sand toys for them to entertain themselves with.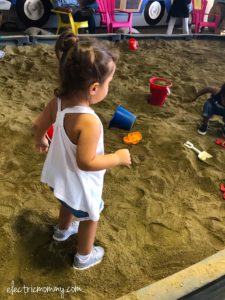 The next station was an area with a couple of tables that had lots of different types of blocks on them. Here, the kids could sit down and build whatever their hearts desired. There were a couple other stations in the tent but these were the only three we checked out. It was about time to go find those rides!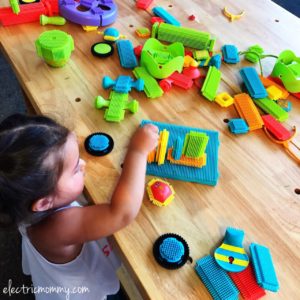 When we exited one side of the tent, we entered Kid Land. This is definitely the place to be if you have toddlers or young children. Almost all the rides we saw were for children her height. She got to ride a motorcycle by herself, a carousel, a roller coaster, a giant slide and an awesome boat ride that went back and forth and spun at the same time (her favorite).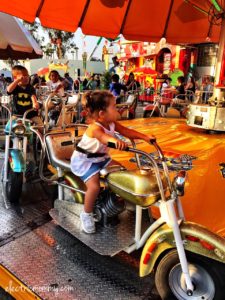 Once we ran out of tickets, it was time to call it a night. We left the park around 8:00pm, just as the new crowds of people were starting to arrive that wanted to see the fair at night.
Overall, our first trip to the fair was a HUGE success! We can't wait to go back again!