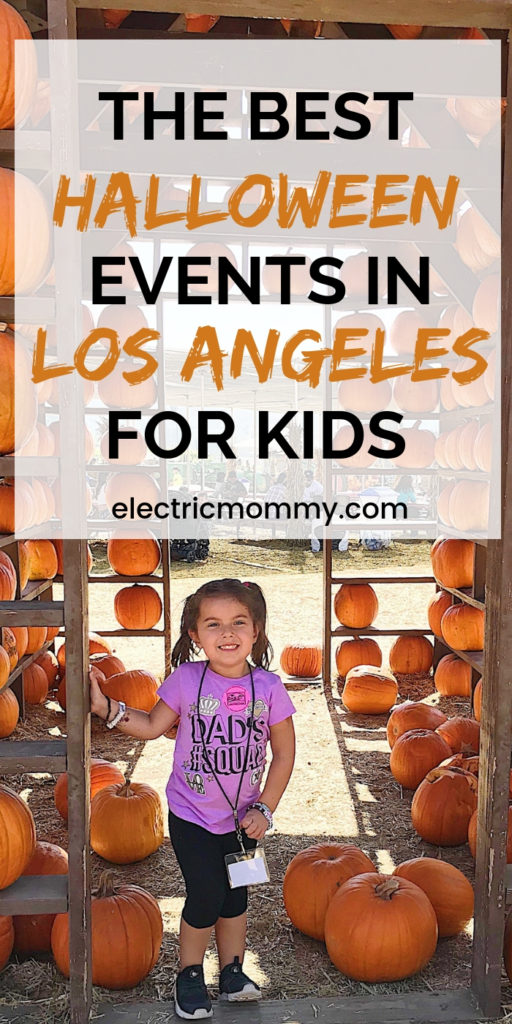 Who's ready for all things Halloween? We love this time of year in our house. My oldest daughter is obsessed with the Nightmare Before Christmas so she's excited that they're about to play that movie everywhere!
I think her love for Jack and Sally started when she was around two years old. That's when we had annual passes to Disneyland and she LOVED how they turn the Haunted Mansion into the Nightmare Before Christmas theme.
I, personally, love this time of year because of all the awesome events going on! We're lucky to live in a city like Los Angeles because the list of Halloween activities seems endless.
Here's a list of some awesome, family-friendly Halloween events in Los Angeles:
WHEN: October 2nd – 7th
The first year of the Freeform Halloween House was such a hit that they're bringing it back again this year! Held at the historic Hollywood Athletic Club in the heart of Hollywood, the Halloween House brings to life some of your favorite Halloween movies.
You can walk through the Sanderson Sisters' cottage, enter Oogie Boogie's lare and play a wild gambling game with him, drive the Mayor's car, get into trouble with Lock, Stock and Barrel or visit the Addams' Family living room.
We went last year and it was amazing! Tons of good Instagram-friendly spots plus free Butterfinger bars. 🙂
COST: Tickets are $27 and they do sell out fast!
WHEN: October 31st
Head over to One Colorado in Old Town Pasadena for some family-friendly fun on Halloween night! Come dressed up and do your trick-or-treating with local restaurants and businesses. Get a free, professional photo and stick around for a showing of The Nightmare Before Christmas at 7:00pm.
COST: Free
WHEN: October 3rd – November 3rd
This event looks amazing! I definitely want to make it here this year.
Nights of the Jack calls itself "an interactive Halloween, family-friendly experience." As you make your way around the trail that surrounds King Gillette Ranch in Calabasas, you'll be able to check out a live pumpkin carver, the best food trucks in LA, a "Spookeasy Bar" for the adults and tons of amazing Halloween displays.
They even partnered with Nickelodeon this year for some special surprises for the kids!
COST: Tickets start at $22
WHEN: October 5th – 30th
This looks like the ultimate pumpkin patch!
Here's just a few of the things you can do:
bounce houses (including Mr. Bones' Super Slide and the Dancing Spider Bounce House!)
giant rocking horses
face painting
a straw maze
petting zoo
pumpkin decorating and more!
They even have some fun events like Trick-or-Treat Spooktacular on October 25th. Check out their website here for a more detailed list!
COST: Free to enter but most activities require tickets. (Tickets start at $1 each.)
WHEN: October 12th & 13th
We love Kidspace! Every time we've gone, the girls have a blast. One of their Halloween-themed events is the Monster Mash.
Kids can come in their costumes and explore the grounds as they search for candy and other goodies. Just watch out! There's fun and spooky characters that you might run into.
The kids can also watch a costume parade, make "ectoplasm" at the slime station or become a mad scientist with a "franken-art" project.
COST: Tickets are $14 each and $10 for members. (Infants are free.)
WHEN: October 19th & 20th
This is another awesome event put on by Kidspace. We went to this two years ago and it was so much fun! They had a TON of bounce houses that my oldest enjoyed.
This year, it takes place the weekend of October 19th and 20th. Some of the activities include a petting zoo, bounce houses, crafts, live music, pony rides and carnival games.
COST: Admission is free. Tickets are required, though, for food and activities.
WHEN: Now through October
If you or your little ones want to see a classic, family-friendly Halloween movie, head to the El Capitan Theatre! Now through October, you can find showings of The Nightmare Before Christmas, Coco, Hocus Pocus and Maleficent.
Currently, they're showing The Nightmare Before Christmas in 4D. This means you get to watch it in 3D but you're also surrounded with special effects that are timed to the movie, like fog and wind!
COST: $14 for adults, $11 for children ages 3-11
WHEN: October 27th & 28th
Kids can come dressed up in their costumes to the aquarium at the Santa Monica Pier. You can explore their glow-in-the-dark, deep sea experience, walk through a marine animal graveyard, and create your own Day of the Dead mask! There will also be face painting and spooky story-telling throughout the weekend, as well.
COST: FREE with aquarium admission, which is $5 for adults and free for children under 12.
WHEN: September 14th – October 31st
This is an awesome pumpkin patch that's perfect for the whole family. You can ride the train for twelve minutes throughout the historic Irvine Regional Park or check out one of these fun activities:
hay rides
moon bounce
panning for gold
face painting
pumpkin decorating
cookie decorating
carnival games
delicious food and more!
COST: Free admission but activity tickets are $6 each. (Most activities take one ticket.)
WHEN: October 10th – November 3rd
Pumpkin Nights is held in five different cities, one of them being Los Angeles! Here you can wander along a half-mile path and discover the Forbidden Pumpkin City, a pirate's cove and over 3,000 carved and artificial pumpkins. You can find even more fun and games in Pumpkin Central, the main festival area. This is another awesome event that's perfect for all ages.
COST: On weekends and weekdays before 8:00pm, tickets are: $20 for adults, $16 for kids ages 4-12 and children 3 and under are free. (There is special pricing available if you go after 8:00pm during the week.)
Have you been to any of these? Do you have a favorite place you like to take your kids for Halloween fun in LA?