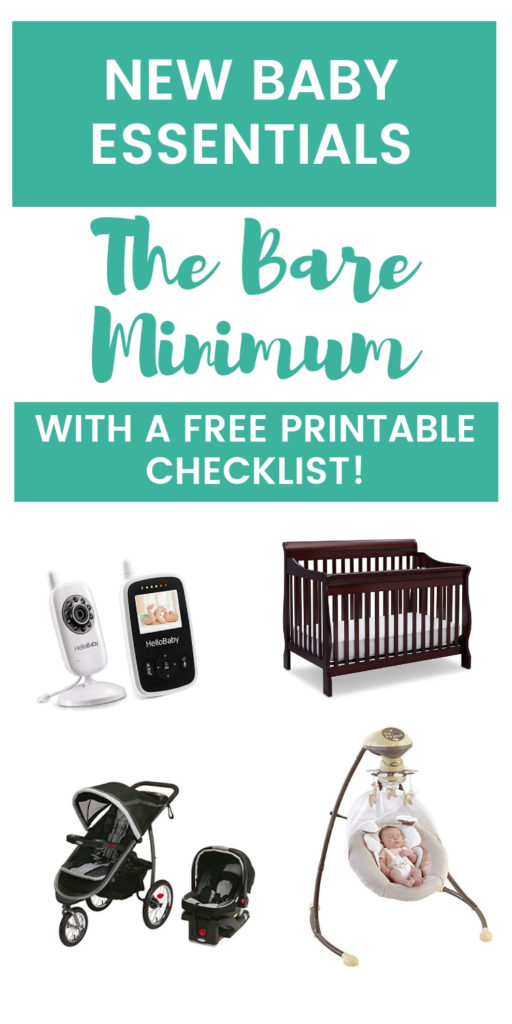 NEW BABY ESSENTIALS – THE BARE MINIMUM
(Everything you need and the things you don't!)
When we had our first daughter, we lived in a 900 square foot apartment in Los Angeles and I had no idea how we were going to all fit. When you go to start a registry, it can be incredibly overwhelming! There are a million baby products on the market right now and for new parents, simply creating a registry can be a horrifying experience. Not to mention the stress I felt about having such a small space so I knew I wouldn't be able to get as much.
*This post contains affiliate links which means if you click on them and make a purchase, I may earn a small commission. This in no way affected the products I am recommending. These are all items I relied on as a new mom!
If you are still looking to register somewhere, I highly recommend the Amazon Baby Registry. There are lots of perks to registering through them, especially if you are a Prime member, including free shipping, free 90-day returns and up to 20% off diapers and baby food. What I liked best though was just how easy it was to create the registry and the fact that I didn't have to leave the house. 😊
Before my daughter was born, I was under the impression that I needed way more than I actually did. Now, after having two babies, I've learned what you really need versus what are just "extras" that might be nice to have but aren't exactly necessary.
Living in a small apartment also forced me to figure out what we needed and more importantly, what we didn't.
Here is a list of the major items you NEED:
1. CRIB or BASSINET – We got a bassinet due to the lack of space in our apartment, but we did eventually need to move up to a crib once the baby outgrew the bassinet. To save money and if you have the space, I would just buy a crib. We bought a convertible crib and it's awesome. It converts from crib, to toddler bed, to daybed then to a full size bed. This crib is the one that we have and it has lasted through two babies so far!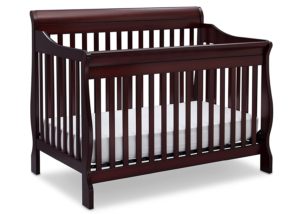 2. DIAPERS and WIPES – I recommend getting some newborn diapers but not many. Both my daughters outgrew that size fairly quickly so I would only get a small amount of the newborn size. You will need much more size one and two diapers. We prefer either Pampers Swaddlers or the Costco brand, Kirkland diapers are great as well. As far as wipes, we also like the Costco Kirkland wipes. I would start with unscented ones until you know more about your baby's skin type and how sensitive they are.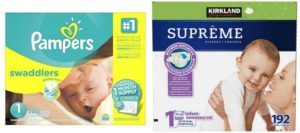 3. BATHTUB – There are a ton of different types of baby bathtubs out there but we LOVED the Blooming Bath Lotus. It was much easier to bathe our baby in than the traditional plastic bath tubs. The bath lotus fits perfectly in most sinks and it feels like the baby is more secure.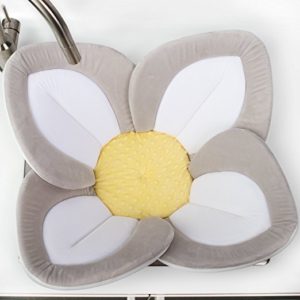 4. BABY SWING – Some people might not consider this a necessity but this was a huge help! My baby loved her swing. It was also one of the few places I could put her and know that she was safe. She also loved to nap in it. I would put her in the swing when I needed to get some stuff done, like a shower or make dinner. We had the Fisher-Price My Little Snugabear Cradle 'n Swing.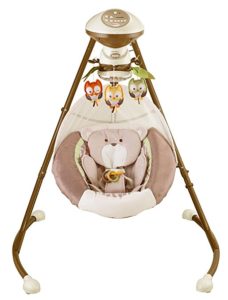 5. CAR SEAT and STROLLER – Now, the car seat is a must. In fact, the hospital will even make sure you have this before you leave. I highly recommend getting a car seat that pairs with a stroller. We were given the Graco Fastaction Fold Jogger Click Connect Baby Travel System as a gift at our baby shower and we love it! We still use the stroller to this day for my three year old. Let's just say we have definitely gotten a lot of use out of this. We are now even using it for our second baby.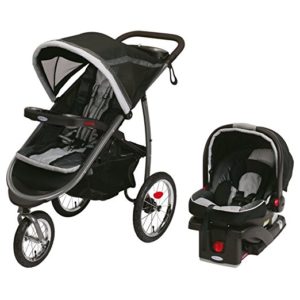 6. BABY MONITOR – A baby monitor is an absolute must if you want any kind of peace of mind. We liked this one from Hello Baby There are definitely more fancy ones on the market but this one has worked great for us and is less expensive.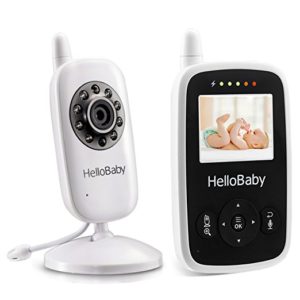 7. BREAST PUMP (if breastfeeding) – If you are going to breastfeed, I highly recommend investing in a breast pump. When I breastfed my first daughter, I produced more milk than my baby was able to drink and needed to pump often to release some of the pressure. It was also very convenient to be able to pump, put the milk in bottles and then have my husband help feed the baby. With my second daughter, I chose to solely formula feed. (If you are interested in why, check out my post Why I'm Choosing to Formula Feed My Second Baby.)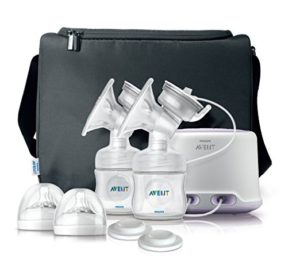 Those are the larger, more expensive items that you need.

Here are the items that you DON'T need:
1. Changing Table – we never used this. Most diaper bags come with a changing pad (like this one here) and that's all we needed. You honestly end up changing your baby anywhere, like the couch, bed or wherever is convenient. Most moms I know agree that they never used their changing table.
2. Diaper Genie / Diaper Disposal System – waste of money. We just toss our diapers in the trash and empty it frequently. We had a diaper genie and it was more of a hassle than anything. You have to buy certain bags to fill it and the cost added up.
3. Bottle Warmer –  we had one for our first baby and it took the same amount of time to warm it in the bottle warmer as it does in a hot cup of water. I wouldn't bother with this.
4. Bottle Sterilizer – you definitely don't need this. Just put your bottles in a pot of boiling water to sterilize them. Works just fine and this method is free!
5. Special Feeding Pillow – I personally didn't care for the feeding pillows. They felt awkward to me. I much preferred one of our regular couch pillows. This one is more of a preference thing but I didn't particularly like the feeding pillows.
6. Wipes Warmer – we had one of these for our first baby but stopped using it after a couple weeks. It's honestly not necessary and it was more of a hassle than anything else. Babies are just fine without warm wipes.
7. Rocker / Glider – I am on the fence with this one. We never had one because we didn't have the space and we did just fine without it. I was able to comfortably lay with my baby on the couch and rock her there. However, if you have the money and the space, this might be nice to have.
8. Fancy Crib Bedding – all you need for the crib is a mattress and some sheets. It is still advised against using crib bumpers due to the risk of SIDS. Plus, most of the extra crib bedding can be costly. It's definitely not a necessity.
Here are some things you will need down the road but not for a few months at least:
High Chair 
Pack N Play
Jumper / Bouncer
I hope this helps! Take my word for it – you really do not need anything except for what's on the list. We had the wipe warmers, bottle warmers, diaper genie and a bunch of other stuff for our first daughter and not only did we not use them, they just took up the little space we had.
Is there anything else you experienced mom's out there would recommend as a true necessity?