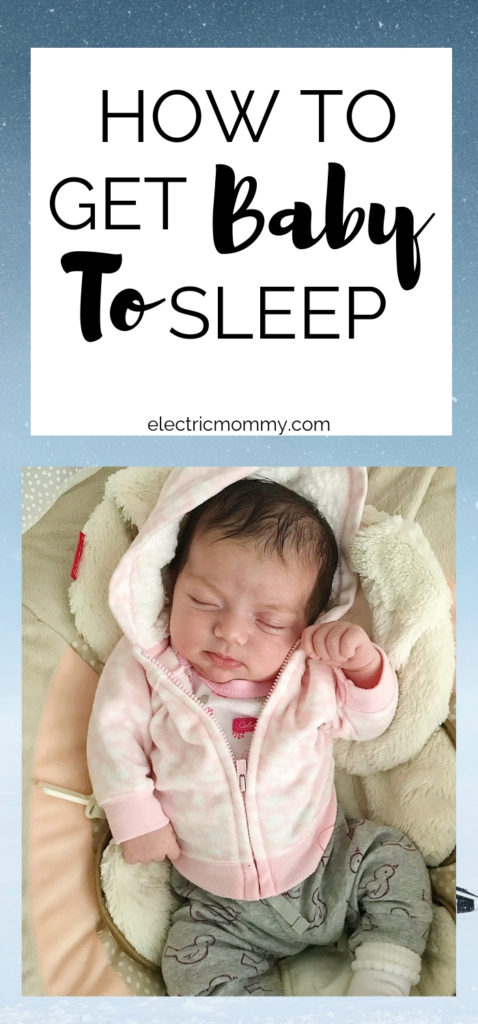 How to Get Baby to Sleep – Our Baby's Bedtime Routine
Putting a little one down can be challenging, am I right? Some babies just seem to naturally know how and when to sleep, and the others – well, they need a little more help.
My first daughter had no trouble going to sleep on her own and at three months, she was already sleeping through the night. If you've been following my blog, you already know that everything just seemed a little easier with my oldest.
My second daughter is a bit more challenging. It took us a long time (and a lot of trying new and different things) before we finally settled into a bedtime routine that works for her. She just turned one but hey, we finally got there! She's now falling asleep on her own and staying asleep all night.
We start our routine at the same time each day. Consistency is key!
Here's how we put our baby to sleep:
1.) Bath Time at 6:00pm
We get bath time started around six o'clock every night. An absolute essential for her bath is the JOHNSON'S® Bedtime Bath. The lavender scent is amazing and gives the water a calming smell.
I have to say, I am extremely careful about the products I use on my baby, which is why I appreciate and love the new JOHNSON'S® products.
They listened to parents and completely reformulated their line, inside and out. There are no parabens, no phthalates, and it's hypoallergenic. They're free of dyes and sulfates and have half the ingredients. That's what I care about.
I start by washing her with the JOHNSON'S® Bedtime Bath and finish by shampooing her hair with the JOHNSON'S® Gold Shampoo. They smell so good! (I stick with the Gold Shampoo because I love that classic smell but they also have a Calming Shampoo that works well for bedtime too.)
After I wash my baby, I let her play for a little bit in the warm water and then take her out and wrap her up in a towel.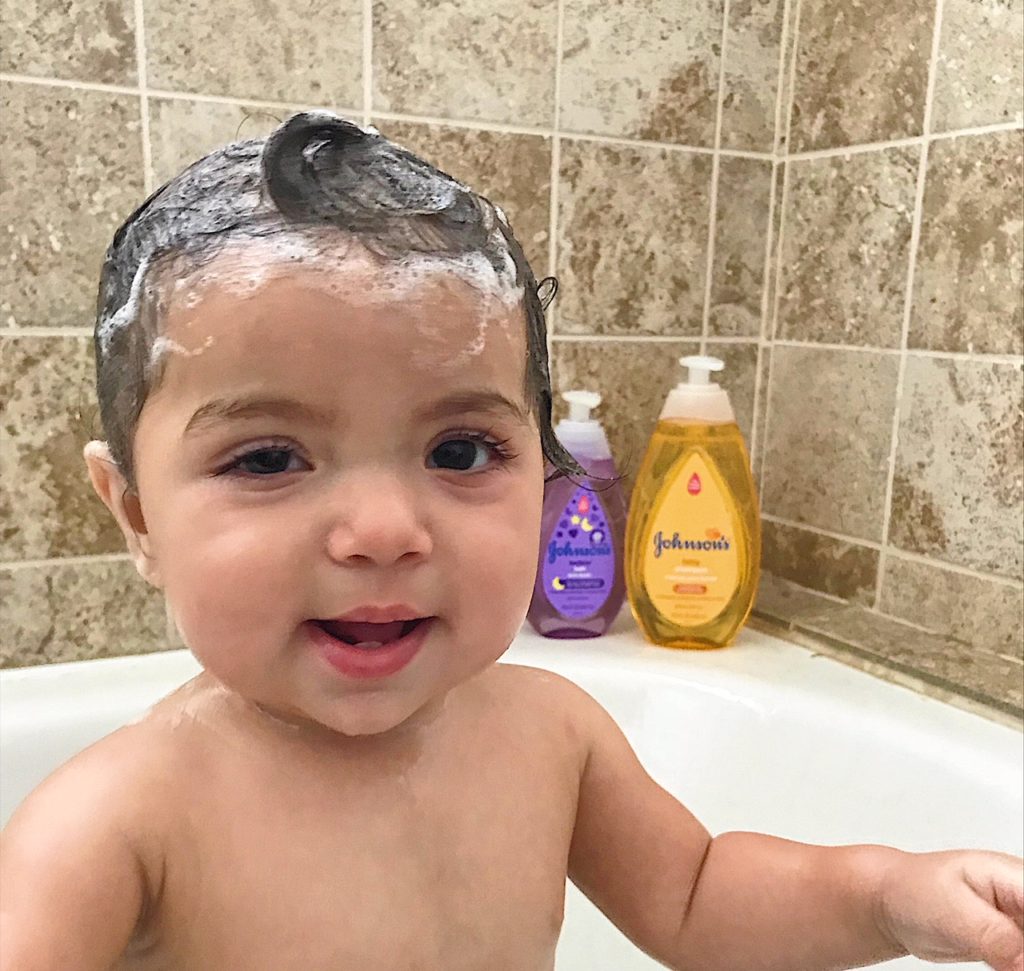 2.) Massage / Lotion
After I've dried her off, I lay her down on the towel, put a diaper on (just in case) and rub her down with some JOHNSON'S® Bedtime Lotion. Gently rubbing the lotion on your baby calms them after their bath. It really helps prepare my little one for sleep.
Are you ready to try the new, more gentle Johnson's products? Just click the picture above to find them online at Target!
3.) White Noise Machine
This part is crucial. We've come to really rely on our white noise machine. We live on a loud street in a big city so there's a lot of outside noise. The white noise machine (which looks like a little bunny) helps to drown out some of the city noise and provides more calming sounds, like the ocean or rain.
There are lots of different ones on the market but look around and don't overpay. It doesn't have to be anything fancy, just something that plays some background noise.
We make sure to turn this on right after her bath.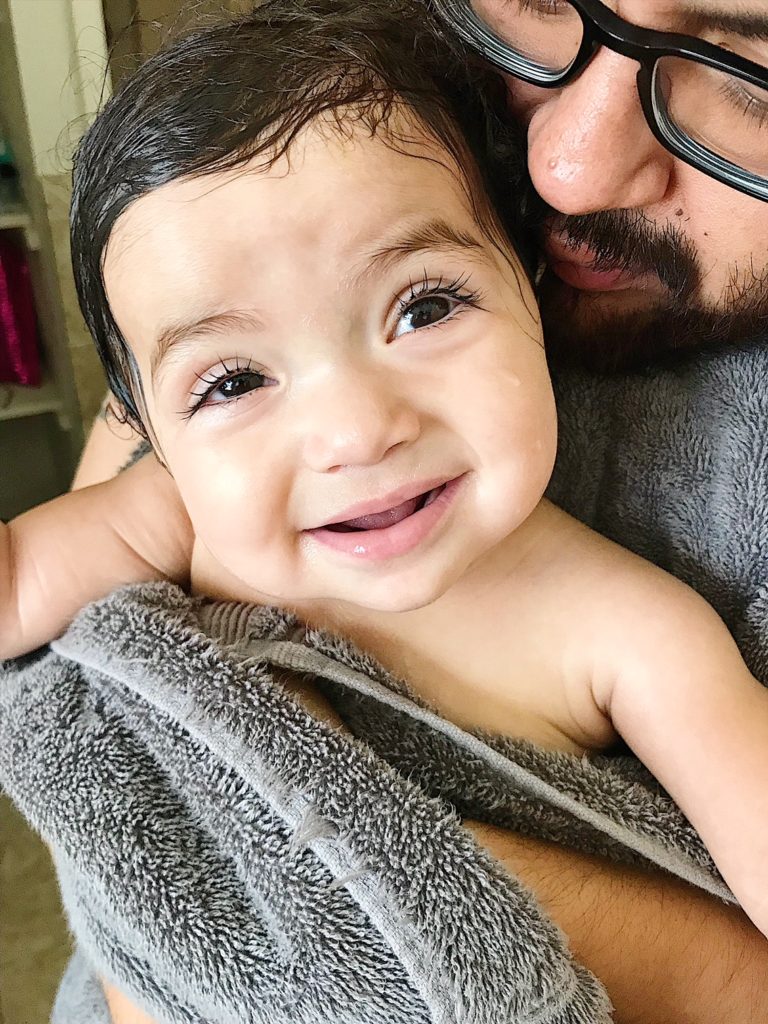 4.) Swaddle, Favorite Blanket and Pacifier
After my little one is all cleaned up, I loosely swaddle her in a large blanket. I leave her arms out because our baby doesn't like having her arms swaddled but you will learn what your baby prefers.
She is almost one and we still do this. It took a long time for us to realize how much this helps her. She's an incredibly active baby and by swaddling her, it helps control her legs and she seems to be able to lay there more peacefully.
She also has a favorite blanket. She drags it with her everywhere. So, we swaddle her, lay her in her crib, give her a pacifier and then lay her favorite blanket next to her. Right away, she grabs her blanket and starts to hug it.
5.) Sing
This is a very short part of the process. By this time, she is already on her side and starting to close her eyes. However, we still sing to her for just a couple minutes, hold her hand and tell her we love her.
Then, we slip out of the room and she's usually asleep within a few minutes.
Again though, I will stress that consistency is key. I truly believe that by doing this daily and keeping the routine consistent is what really helps get our baby to sleep.
Everything we use for her bedtime routine you can get at your local Target or online. They have some of the best prices on the JOHNSON'S® new baby products and who doesn't love going to Target?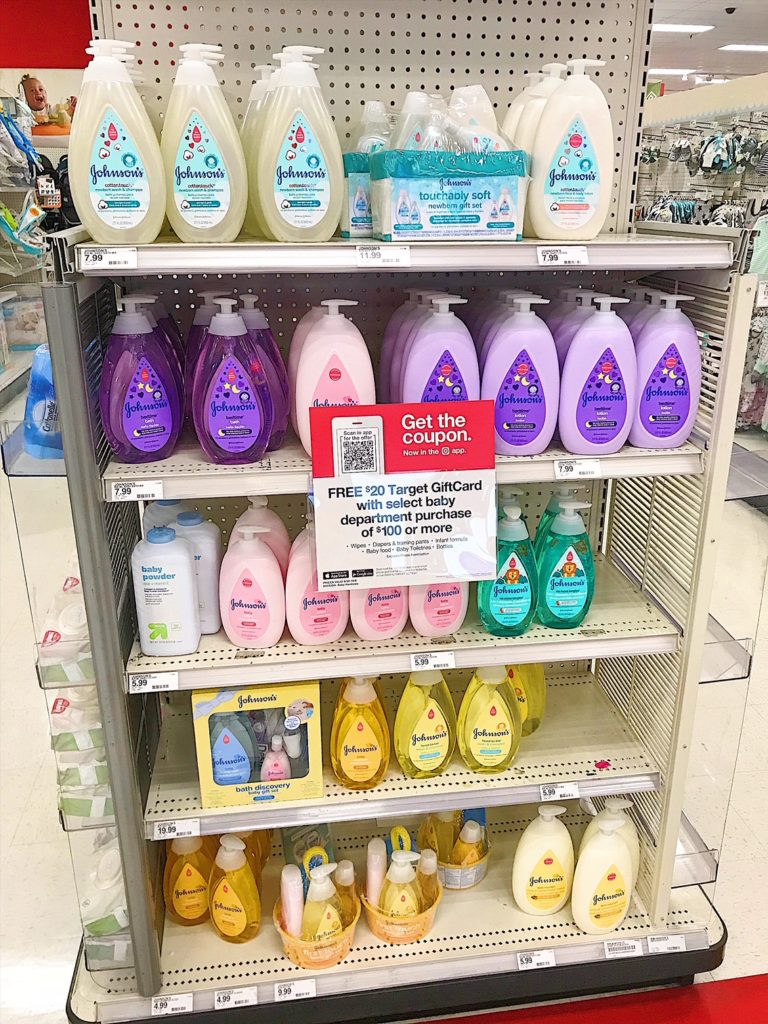 I'm not sure who like's to go to Target more – myself or my oldest daughter. She is all over the dollar section as soon as we walk in because she knows she's usually allowed to get something there. I love it because I can always find something awesome for the house.
Has your baby settled into a routine? What works for your little one?