It's no secret that I love a good pasta salad, so I'm sharing another favorite of mine, Pesto Tortellini!
I make different variations of this one all the time. Me, my husband and my toddler all love pesto, which is why this one's on a heavy rotation. (I can't say the same for our oldest, though. She's too picky to even try anything green lol.)
As far as pesto goes, I wish I could say I make my own but, let's be honest. I don't usually have time for that. I go the quicker route and get our favorite pesto at Costco. It's their Kirkland brand, seen here. (Just make sure NOT to get it on Amazon. You can get that same jar in the actual store for $8. I just couldn't find a direct link to Costco.)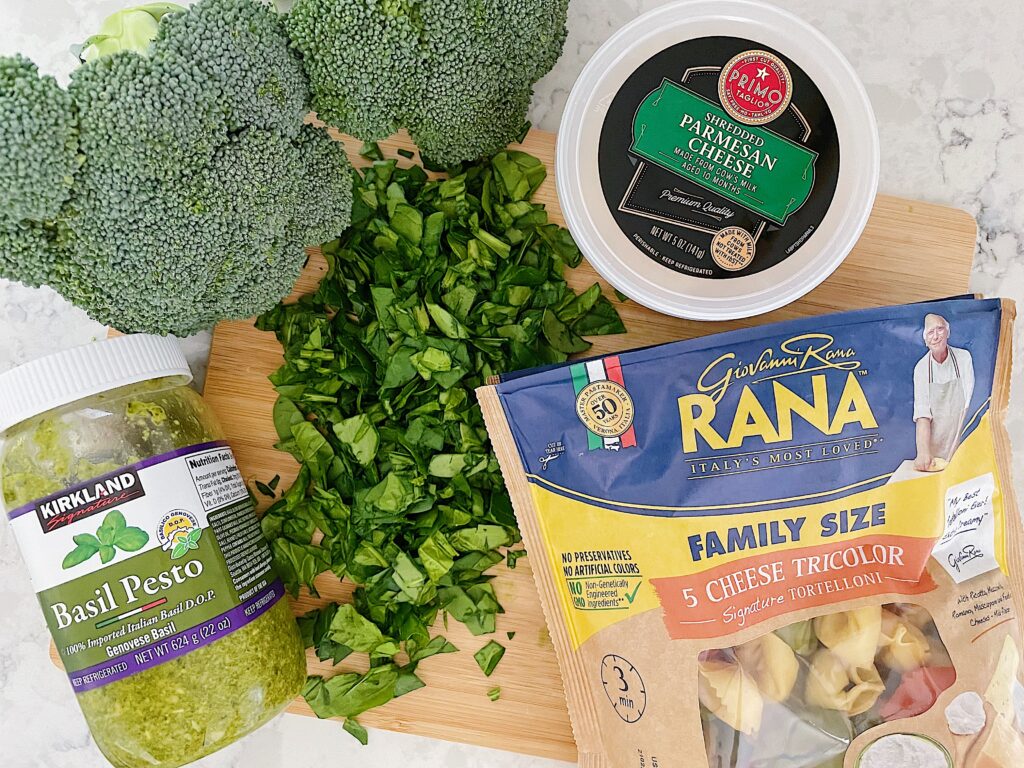 I also like to grab a bag of tortellini when I'm at the store, because of how easy it is to make. It's perfect to have on hand for busy weeknights.
You could toss it on it's own, in your favorite marinara or pesto sauce for a super quick meal, or with a couple extra minutes, you could chop some fresh veggies to add to the dish. Both ways are quick, easy and still give you a complete meal.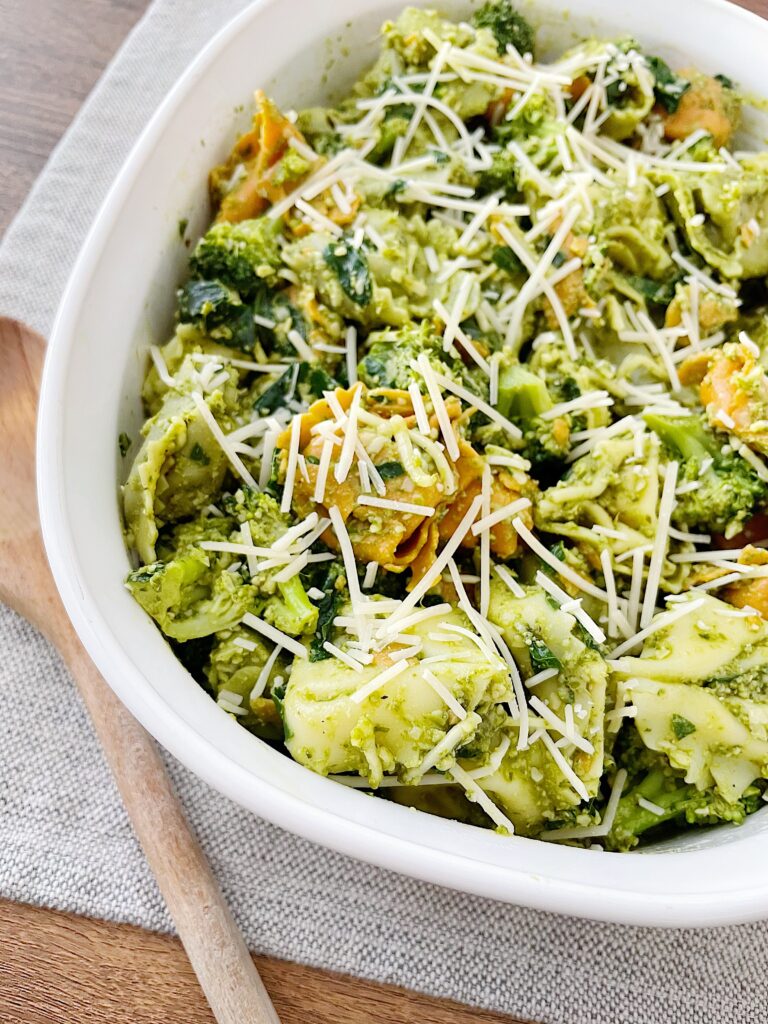 This recipe could easily be served hot and enjoyed as dinner. (That's actually how we usually eat this one.) However, I LOVE cold tortellini pasta salad, so this time I let it refrigerate overnight and we enjoyed it cold for lunch during the week. Both ways are delicious. 🙂
Just follow the simple instructions below to make a batch of your own!
EASY STEPS TO PESTO TORTELLINI
Start off by boiling a large pot of water. While you wait for it to boil, prepare the veggies by washing and cutting the broccoli, and chopping the spinach.
Once the water is boiling, add the tortellini and cook according to the package instructions. Then, add the broccoli to the water the last four minutes the noodles cook. I used fresh tortellini, where the cook time is only 3-4 minutes, so I added the broccoli to the water right after the noodles.
When the noodles and broccoli are tender, drain well.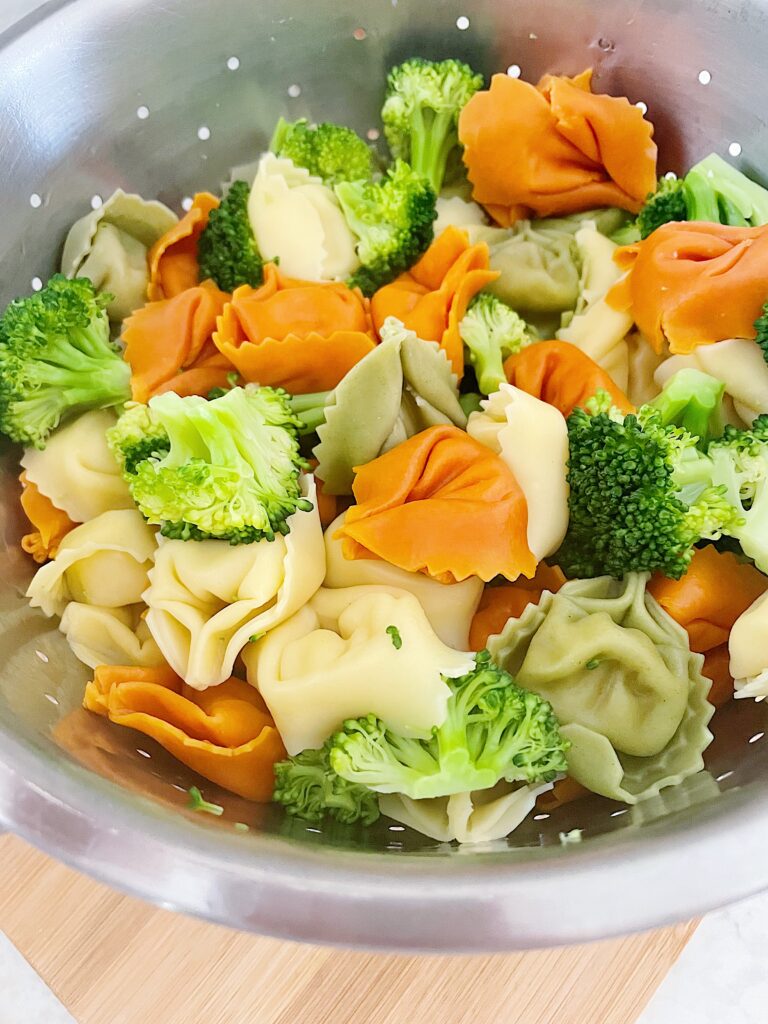 I got the Rana 5-Cheese Tricolor Tortellini which is really colorful! This brand is my favorite. They have a bunch of varieties of noodles and fillings, but I usually go with just cheese.
While those drain, add the chopped spinach to the empty pot. The heat will start to cook the spinach down a bit. Then, return the drained tortellini and broccoli to the pot, on top of the spinach.
Next, add the pesto, salt and pepper and mix it well. Taste and adjust the salt and pepper to your liking. Throw in the parmesan, gently toss it again and serve with your favorite toppings, like cherry tomatoes or fresh basil.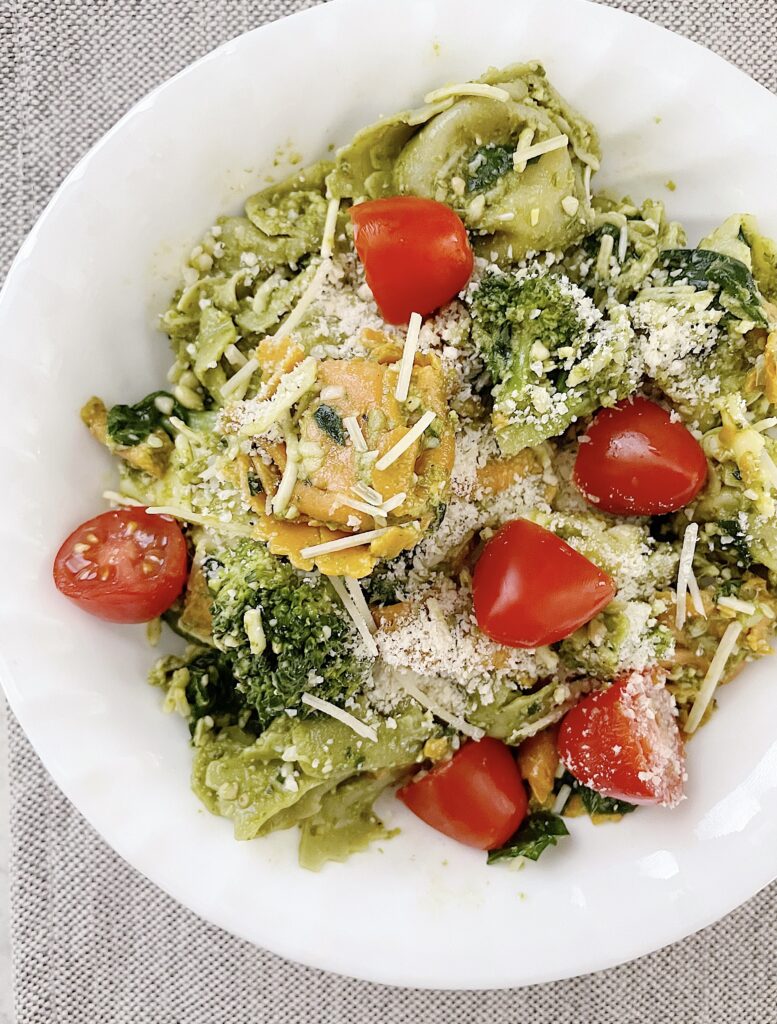 Again, this one can be enjoyed hot or cold! If you give it a try, let me know in the comments how you liked it and if you enjoyed it hot or cold. 🙂
Pesto Tortellini Pasta Salad
Cheese tortellini is tossed with basil pesto, broccoli and spinach, packing in lots of green veggies. Top it all off with some fresh parmesan cheese and you have a seriously tasty meal.
Ingredients
20 oz

bag of cheese tortellini (refrigerated or frozen)

2

cups

broccoli (chopped)

2

cups

fresh spinach (chopped)

1

cup

basil pesto

1/3

cup

parmesan cheese

1/2

tsp

salt

1/2

tsp

pepper
Instructions
Boil water in a large pot.

While waiting for the water to boil, prepare the veggies. Wash and cut the broccoli into bite-sized pieces and chop the spinach.

Once the water is boiling, add the tortellini and cook as instructed on the package. Add the broccoli to the water the last 3-4 minutes the tortellini cooks. (If you're using fresh tortellini, this is about the entire cooking time of the noodles, so I drop the broccoli in the water right after the tortellini.)

Once tortellini and broccoli are tender, remove from stove and drain well. While that drains, add the chopped spinach to the empty pot. Then, add the drained noodles and broccoli back to the pot.

Add the pesto, salt and pepper and gently stir to combine. Mix well, until everything is coated in pesto. Adjust the salt and pepper to taste, if needed, and then add the parmesan cheese. Gently toss again and serve with your favorite toppings! This goes well topped with fresh basil, cherry tomatoes or more parmesan cheese. 🙂