Who else agrees that one pot pasta dishes are the best? The less dishes the better, which is why one pot recipes are my favorite.
Our schedules have been getting busier and busier, and some nights there's very little time to cook. That's another reason I appreciate one pot pasta meals. They're usually quick to make, just like this one.
ONE POT CHEESEBURGER ORZO SKILLET
It all starts by cooking and seasoning your choice of lean ground turkey or beef. I use extra lean ground turkey, but that's just my preference. Either choice works in this.
Then, you add the uncooked orzo pasta, diced tomatoes and chicken broth. Mix it all together and let it cook in one pan. Add some cheese, and that's it! You can enjoy it just like that, or you can add as many toppings as you'd like.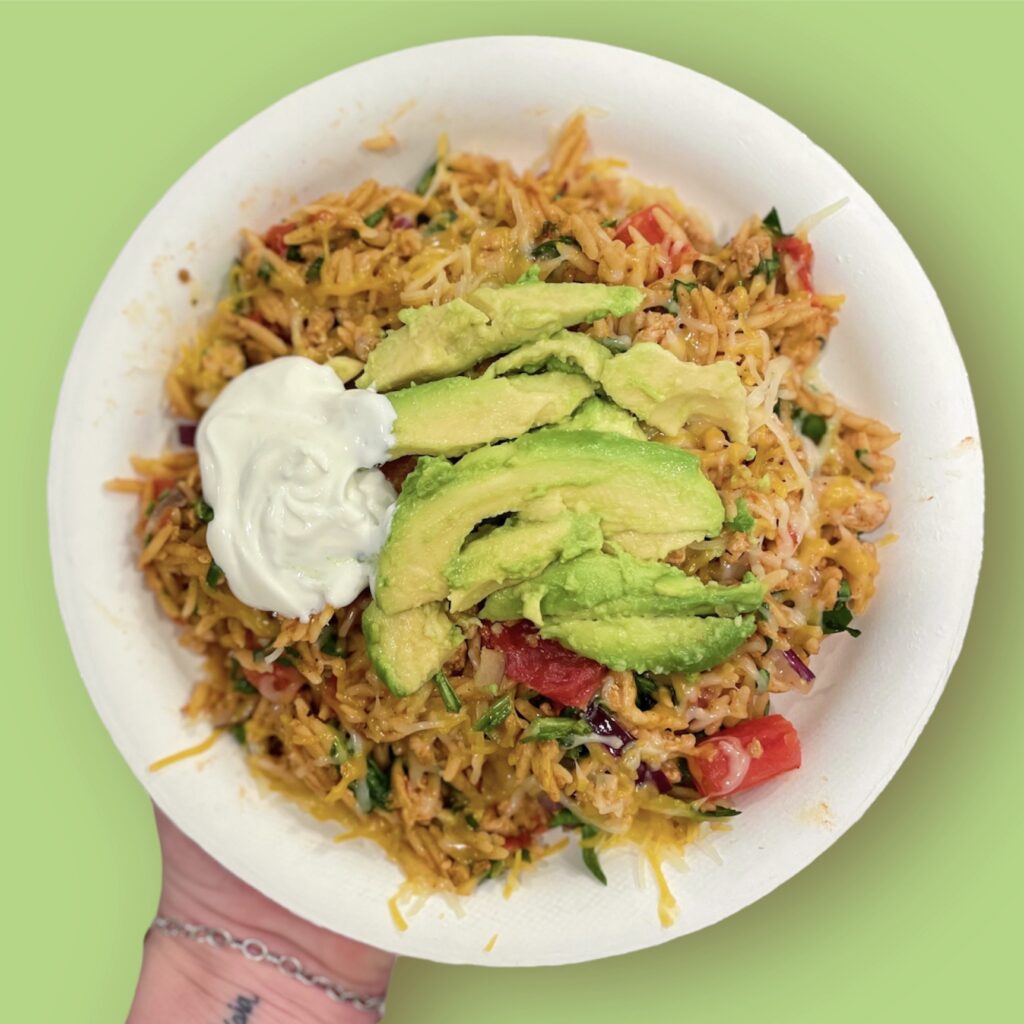 I had this one on heavy rotation for a while because of how quick and easy it is. It's also one of the very few dishes my pickiest eater will eat. Both our daughter's enjoy this recipe, but without the toppings, of course. How dare I try and put anything green on their food, right? 🙂
WHAT YOU NEED
Ground turkey or beef – I used extra lean ground turkey.
Fresh garlic, minced or chopped – I used minced garlic.
14.5 ounce can of diced tomatoes – I love fire-roasted ones in this, but regular diced tomatoes work just as well.
Chicken broth
Orzo pasta
Shredded cheese – Cheddar, Mexican-blend and colby jack are all good on this.
Seasonings:
Taco seasoning
Smoked paprika
Salt
Pepper
Optional Toppings:
Shredded lettuce or spinach – I used spinach here, since that's what I had on hand.
Fresh, diced tomatoes
Chopped red onion
Avocado
Sour cream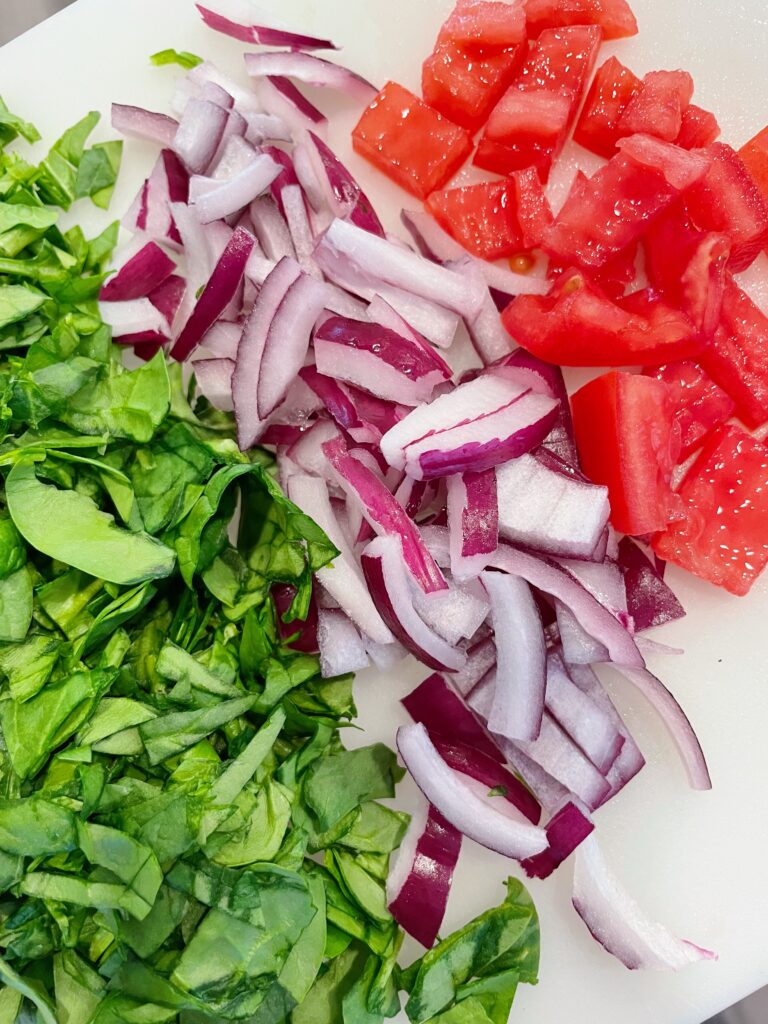 RECIPE NOTES
The biggest thing to remember on this one is to stir the orzo a few times during the cooking process. It has a tendency to stick to the bottom of the pan once the liquid starts to absorb, but if you remember to stir it a few times while it cooks, you'll be good to go.
If I come across whole wheat orzo, I prefer to use that. It's a little better for you and you can't tell the difference. I have a tough time finding it though, so I typically use regular orzo pasta. (It's found next to all the other pasta in the store, but it's usually in a smaller box and it looks a lot like rice.)
This recipe also works great with your favorite veggies thrown in! Zucchini, corn, broccoli, bell peppers, onions, etc. You can add them to the pan, close to when the meat is fully cooked. I just push the meat to the side of the pan while the veggies cook for a few minutes over the heat.
Another way to incorporate fresh veggies is by serving them on top. My favorite toppings are fresh lettuce or spinach, tomatoes and onion. Almost like a real cheeseburger!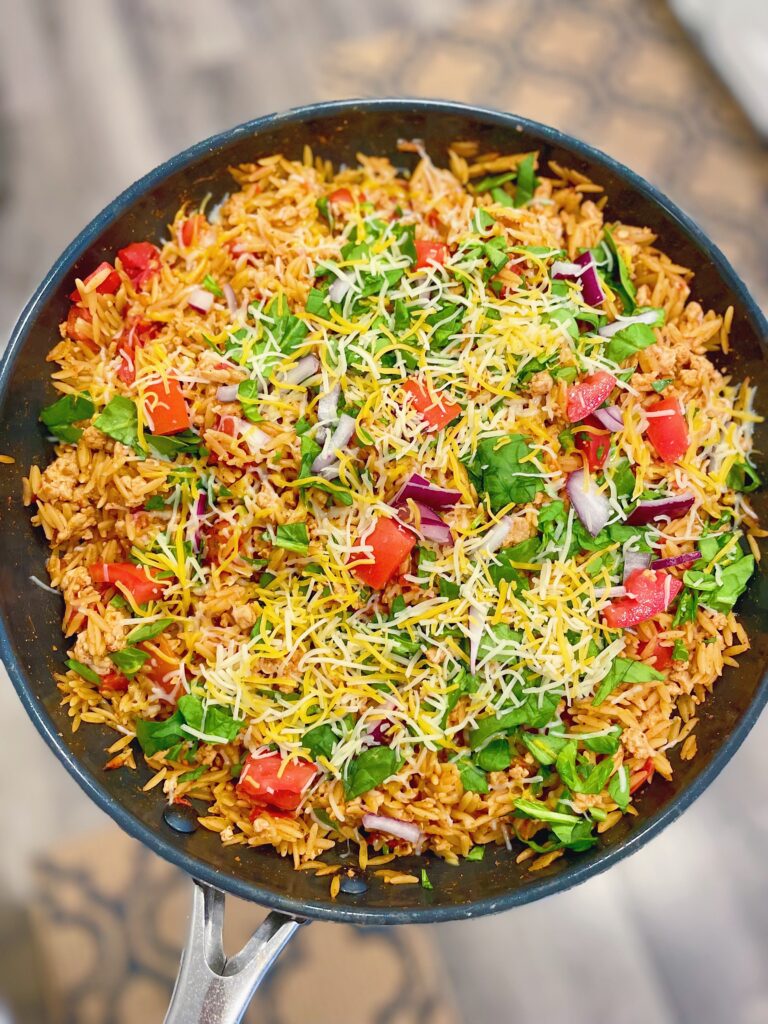 If you have some extremely picky eaters in your house though, then you can keep it super simple and skip the toppings. Without them, it's like a yummy cheeseburger mac and cheese that both my kids enjoy. They also love this other one pot recipe, which is another super simple one for busy nights.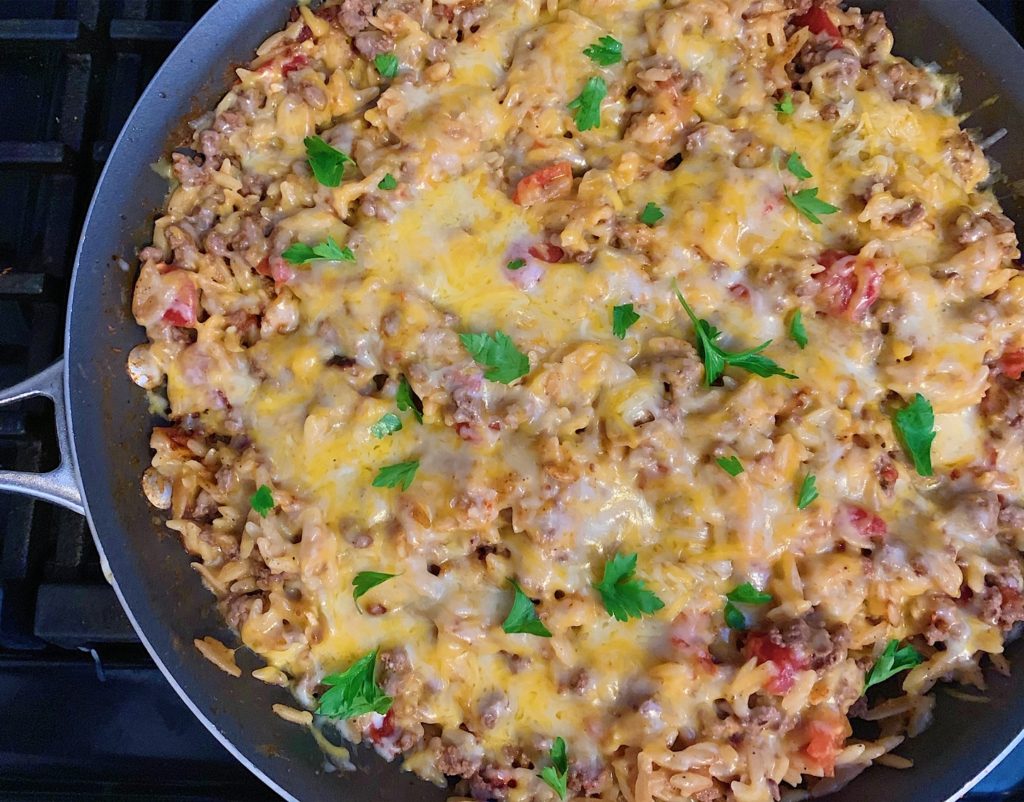 One Pot Cheeseburger Orzo Skillet
This simple and delicious meal uses lean ground turkey, orzo pasta and a lot of cheese for a meal the whole family will love!
Ingredients
1

lb

ground beef or turkey

1

tbsp

minced garlic

½

tsp

salt

½

tsp

pepper

½

tsp

smoked paprika

2

tbsp

taco seasoning

1

can

diced tomatoes (14.5 oz)

2

cups

chicken broth

2

cups

uncooked orzo

1

cup

shredded cheese
Optional Toppings
shredded lettuce or spinach

diced tomatoes

diced red onion

avocado

sour cream
Instructions
Cook ground turkey or beef over medium-high heat until no longer pink. Drain fat, if any. (I prefer to use extra lean meat, so there's usually not much to drain.)

Next, add the garlic, salt, pepper, paprika and taco seasoning to the pan. Mix everything together and cook for another 1-2 minutes.

Add the can of diced tomatoes, chicken broth and orzo to the pan and stir. Mix well, making sure the orzo is mixed well with the liquid. Bring to a boil.

Turn heat down to medium-low, mix ingredients again and cover. Cook for approximately 12-15 minutes, stirring frequently (2-3 times) throughout the process, so the orzo doesn't stick to the bottom of the pan.

Stir in the cheese and it's ready to eat! You could also add fresh veggies on top like shredded lettuce, spinach, fresh tomatoes, red onions, avocado, cilantro or sour cream. Enjoy!
Recipe Notes
This recipe does well with just about any of your favorite veggies thrown in! I love to add zucchini, fresh corn off the cob and bell peppers. However, my two little ones are extra picky these days, so I kept it super simple in the recipe. 
Another great part about this recipe is that it makes a lot! I'm a big fan of meals that I can get two nights of dinners out of. We always have a lot of this one leftover and it's just as good the next day. Just store the leftovers in an airtight container.
If you want another delicious, yet simple one pot pasta recipe, check out my One Pot Creamy Garlic Pasta with Spinach.
If you try this, I'd love to know how it went! Leave me a comment below, or take a picture of it and tag me on Instagram, so I can reshare. 🙂
-Meghan | Electric Mommy