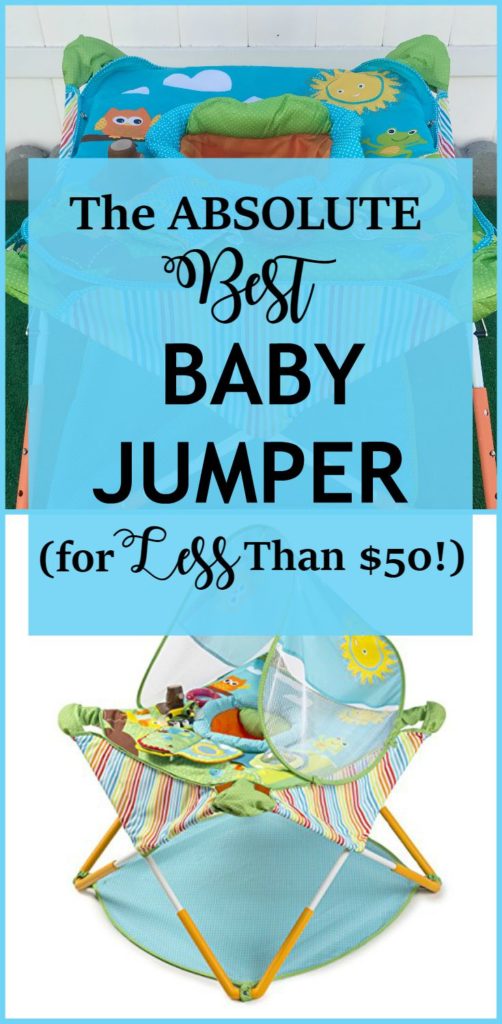 Hey guys! Today, I wanted to share a favorite baby item with you that I couldn't live without right now.
**This is not a sponsored post. I did not receive any compensation for writing this. This is just genuinely a favorite product of mine that I thought I should share with all of you!**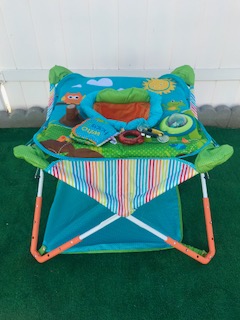 About three months ago, I began my search for a baby jumper that my little one would enjoy. My daughter is a very active baby and constantly wants a toy in her hand or she wants to be on the floor where she can move freely. I needed somewhere to be able to put her safely and something that kept her entertained.
Here are some of the qualities I was looking for in a jumper:
Doesn't take up much space
Easy to travel with
A safe, quality product
Not too expensive
I did a lot of research and read A LOT of reviews. I'm a shopper that relies heavily on the reviews of others so a big thank you to all of you that leave reviews on products you buy! (I have to admit, I am not the best at this but I'm working on it. 😊)
What I didn't like about most of the brand name jumpers was the price. Most of those jumpers seemed to fall in the $70-$100 range. I really didn't want to spend that much if I didn't have to, especially since we don't plan on having other children and I will only be using this for about a year at most.
I found the Summer Infant Pop N' Jump Portable Activity Center and thought it looked really nice and guess how much it cost? Only $49! At first, I was skeptical about going with a brand I didn't know but after reading several customer reviews, I felt comfortable going ahead with my purchase.
I am so glad I did!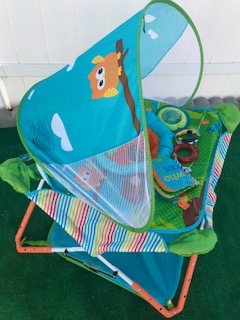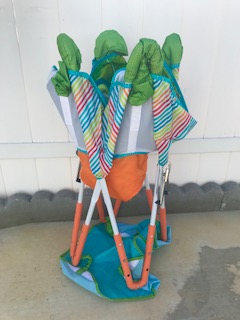 I can't say enough about how much both myself and my baby love this bouncer.
What Mom Loves:
Price, price, price! Of course, I love that this was less than $50. Both Wal-Mart and Amazon currently have this listed for the exact same price of $49.10.
It is super easy to use! I can take it out and expand it in less than 5 seconds. There are just two clasps on the sides that you click in place and you're done.
Travels well. I recently took this on two trips and it was very convenient. It is lightweight and collapses easily which made it awesome to travel with.
Material is easy to clean.
I love the detachable UV canopy that comes with it. It's really nice for days when I want to use this outside.
Comes with three different height levels so it can grow with your baby.
What Baby Loves:
Toys! The toys that come with it are keeping my baby very entertained. It has a ball that spins and rattles when you move it, a little flip book that is made of different material and has a little mirror inside, a rattle and another bumble bee toy that they can chew on since it has two rubber flaps on it.
Appears to be comfortable for her.
She loves how much she can bounce!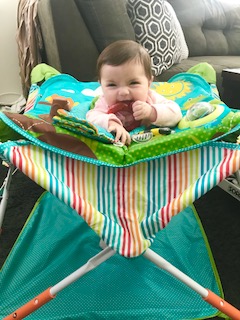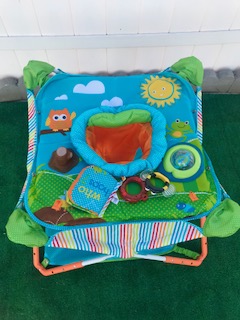 We have had this jumper for about three months now and we love it! The baby stays entertained for long periods of time and I feel good knowing that she is in a safe place.
What are some of your favorite baby products that you couldn't live without?