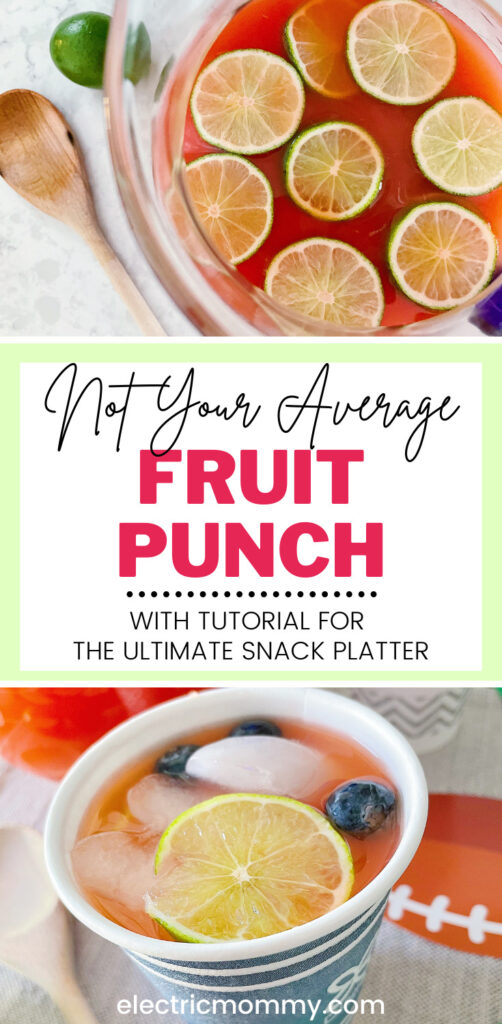 This is a sponsored post for SheSpeaks/Kraft Heinz/Georgia-Pacific®.
Who else shows up for the Big Game just for the snacks?
I know our girls do! They're still a little young to get excited for football, but they do love delicious snacks. That's why I came up with this tasty fruit punch and snack platter spread! These fun treats will give everyone a reason to get excited for Game Day, even the kids. Click here to get these products in your cart!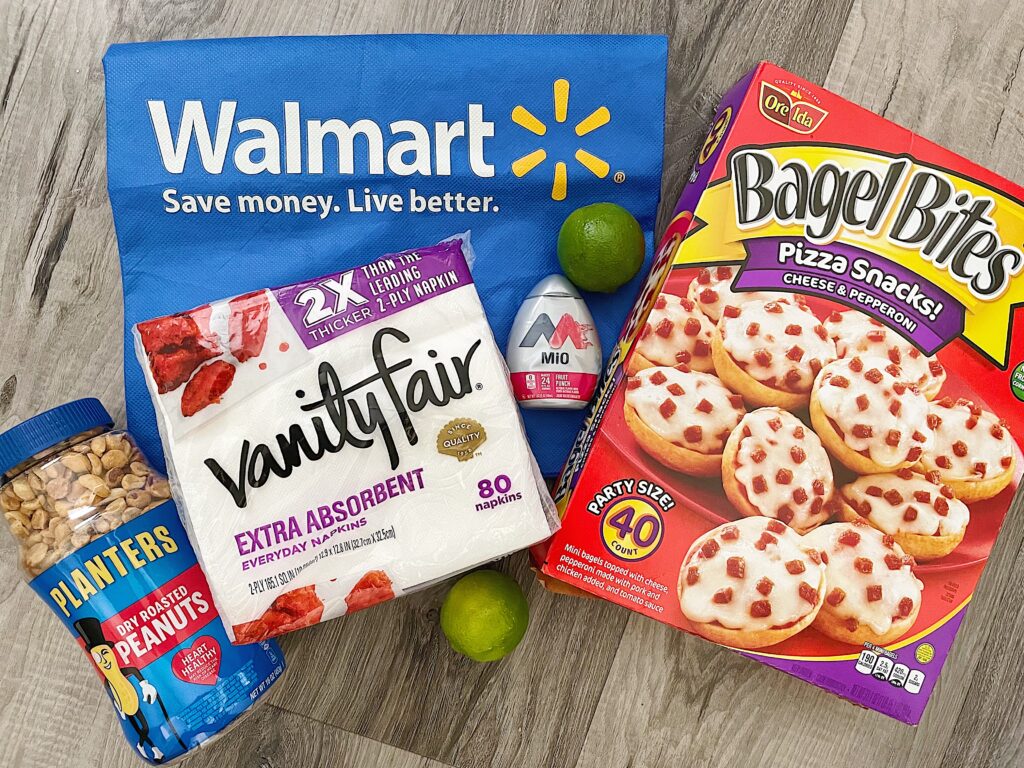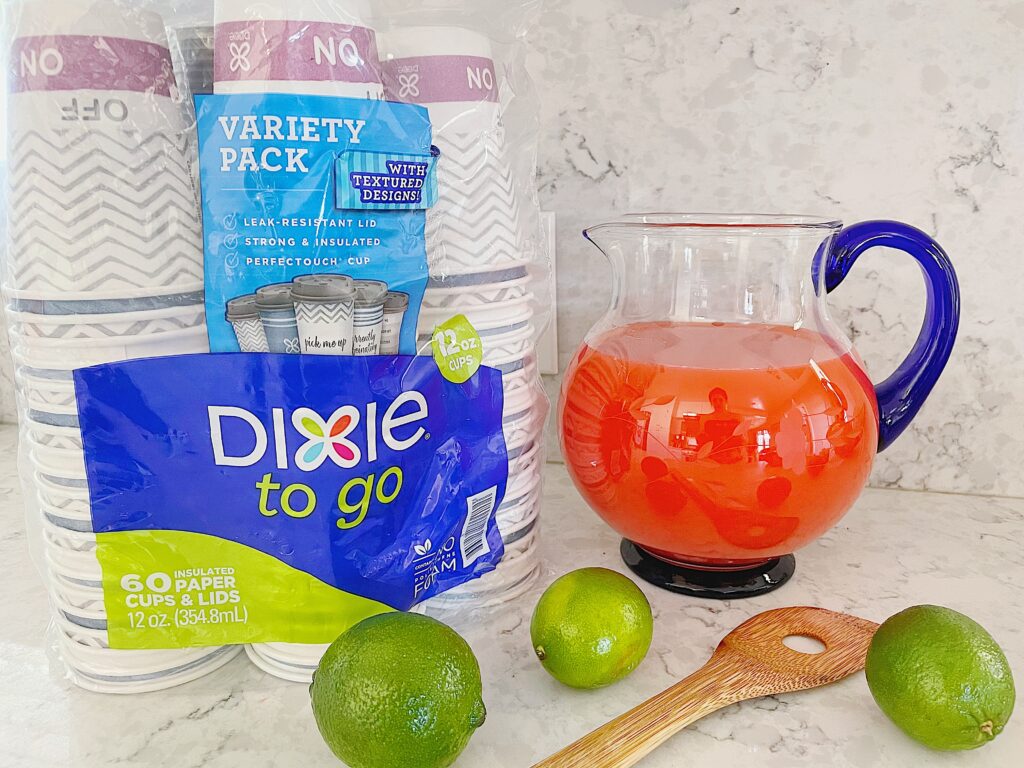 Walmart is here for the assist with everything you need to celebrate the Big Game, as well as the MVPs of plates, cups, napkins and paper towels.
That's why I made sure to pick up some Vanity Fair® Extra Absorbent Napkins while I was there. They're suited for even the messiest situations, such as spilled punch! They are part paper towel, part napkin and 100% life-changing. (Trust me, you're going to fall in love with these napkins!) I also grabbed some Dixie® To Go Cups to make my life a little bit easier and to minimize dishes.
JUST THE FAMILY
This year, it will be just the four of us watching the game and honestly, I am okay with that. Fewer people means fewer dishes and all our favorite foods. 🙂
Below you'll find the punch recipe, a tutorial for the snack platter and instructions for storing leftovers, since I know gatherings are a lot smaller this year (if you're having any at all). Even with no party, you can still make it a fun day with special treats.
I hope this makes Game Day a little extra special for your family this year! If you try the punch, don't forget to take a picture of it and tag me on Instagram.
NOT YOUR AVERAGE FRUIT PUNCH
What makes this fruit punch a little different is a secret ingredient, the MiO® Fruit Punch Liquid Water Enhancer. I love that it gives you all the fruit punch flavor, with zero sugar and calories.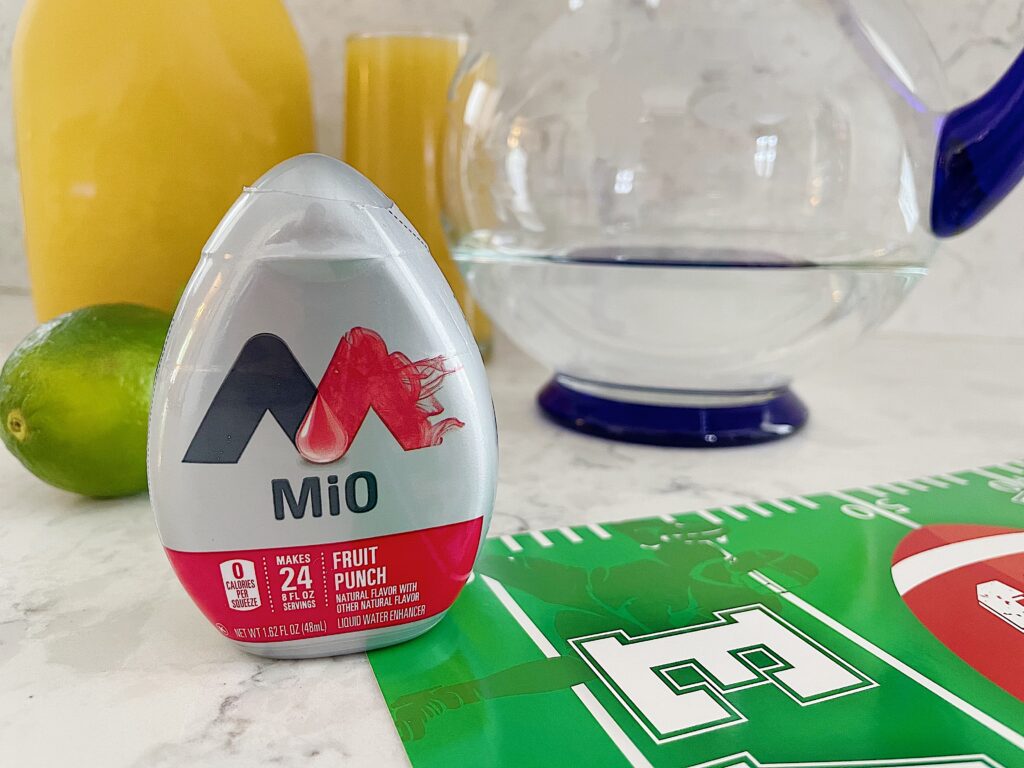 To start, you'll want to mix the water and MiO® drops together in a large pitcher.
Next, add the pineapple juice, orange juice and lime juice. Mix well and place pitcher in the refrigerator to chill for a couple hours.
When ready to serve, remove pitcher from the refrigerator and add the lemon-lime soda. (You want to do this step last, so that the soda stays fresh and fizzy!)
Stir and top with fresh lime slices, if desired.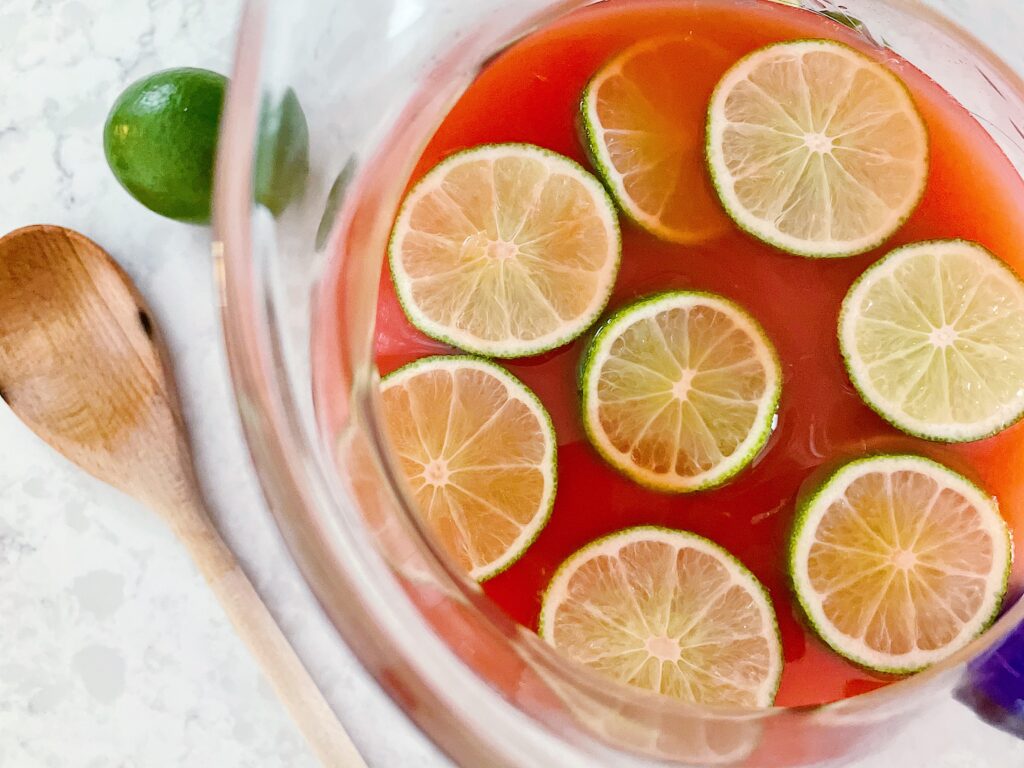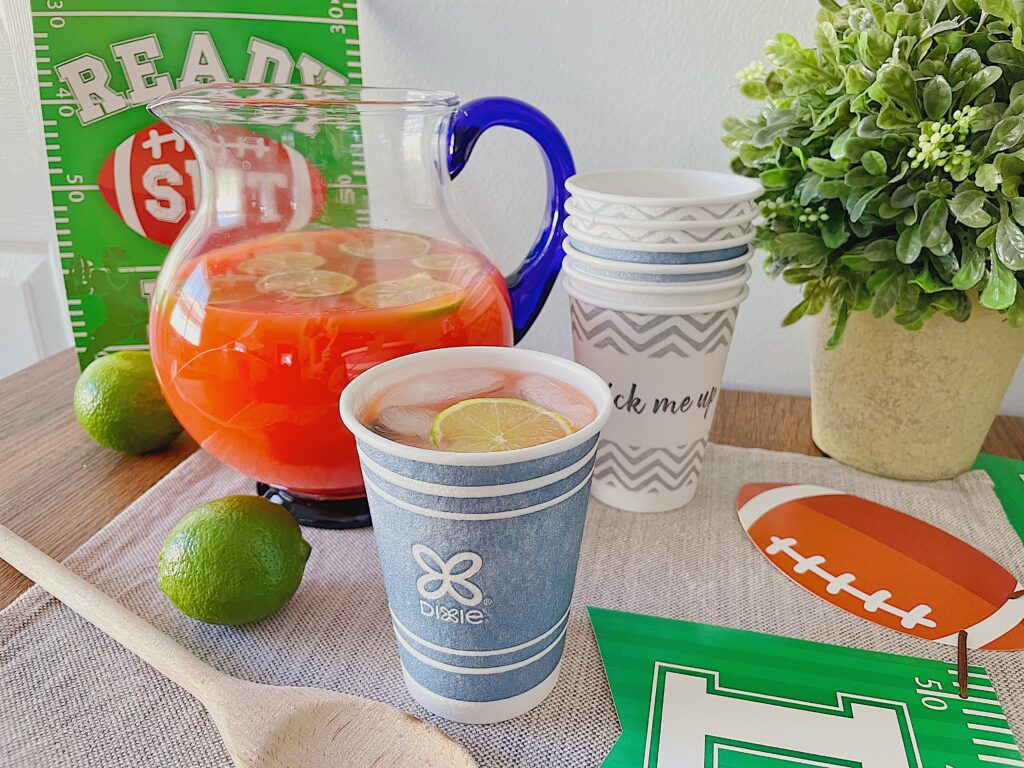 To keep it simple and to cut down on dishes, set out a stack of Dixie® To Go Cups. These single-use cups are disposable for convenience, cleanliness and hygiene. They're a great alternative to using (and washing) real dishes.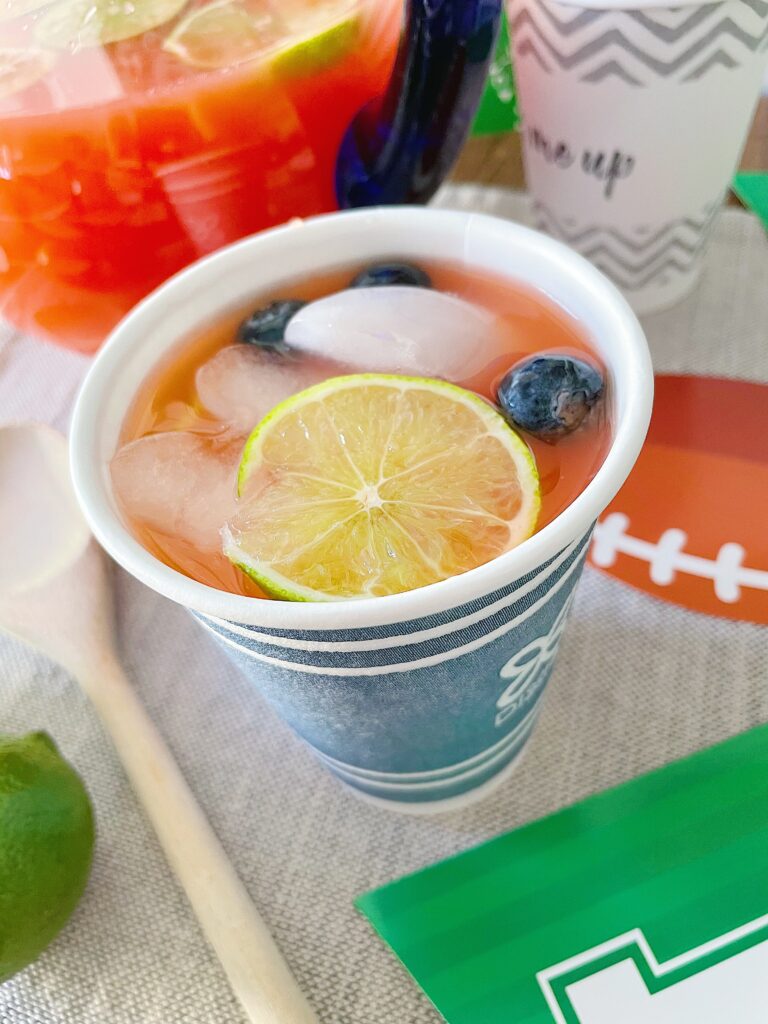 Pour this punch over some ice and garnish with lime slices. Enjoy immediately! (Serve this with the Ultimate Snack Platter for an extra special treat.)
Not Your Average Fruit Punch
A delicious, refreshing fruit punch the whole family will enjoy!
Total Time
2
hours
5
minutes
Servings
5
servings, 12 ounces
Ingredients
2

cups

water

2 ½

teaspoons

MiO Fruit Punch Liquid Water Enhancer

2

cups

unsweetened pineapple juice

2

cups

orange juice

1

tablespoon

fresh lime juice

2

cups

lemon lime soda

lime slices (for garnish)
Instructions
Combine water and MiO fruit punch drops in a large pitcher and stir.

Add pineapple juice, orange juice and lime juice to the pitcher. Refrigerate for a few hours to chill.

Just before serving, add the lemon lime soda and stir.

Pour in a glass filled with ice and top with a lime slice and some berries. Enjoy immediately! For an extra special treat, serve this punch with the Ultimate Snack Platter!
THE ULTIMATE SNACK PLATTER
My youngest daughter was so excited for this! She kept watching me take out all the goodies when I was preparing this and couldn't wait for it to be ready.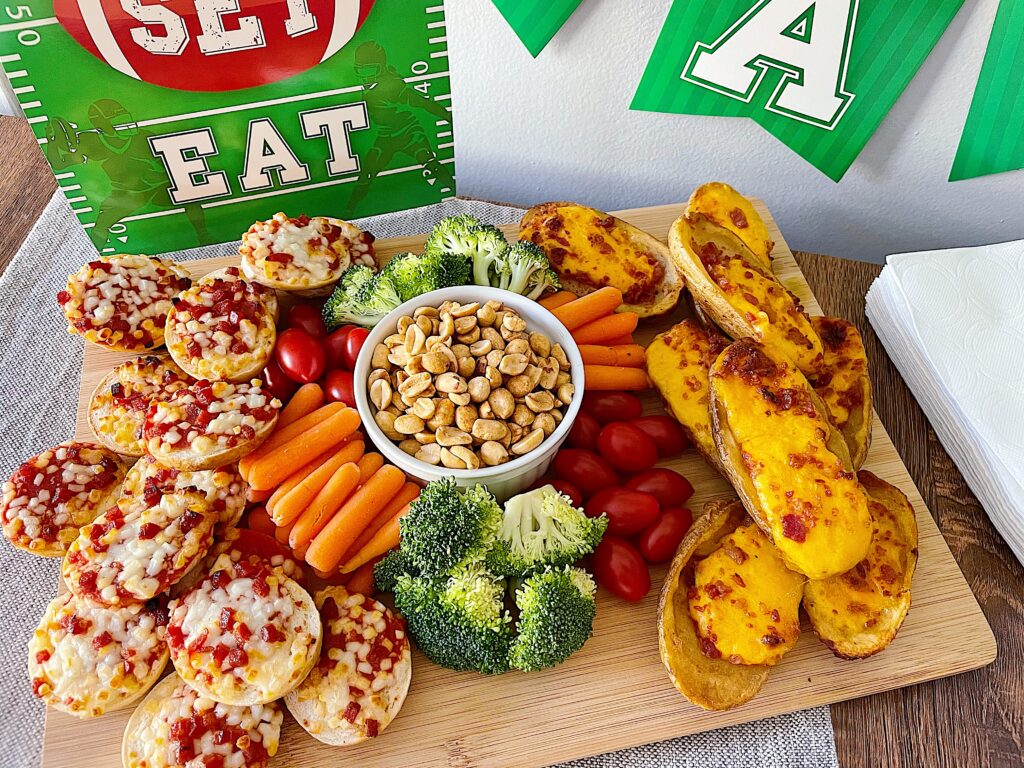 This snack platter is super easy, and it's kid-friendly! My oldest is a very picky eater but even she got excited for these snacks.
The Ultimate Snack Platter includes:
Cherry tomatoes
Broccoli
Baby carrots
Heat up the Bagel Bites® and T.G.I Friday's™ potato skins per package instructions.
While those are cooking, start arranging the fresh veggies and peanuts on a serving tray.
Once the Bagel Bites® and potato skins are done, allow them to cool for five minutes before adding them to the serving tray. Super easy, right?
Enjoy with a cup of some refreshing punch!